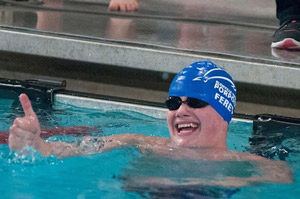 SCHENECTADY–Elijah Feret, of Congregation Agudat Achim and a junior at Niskayuna High School has been selected to represent team USA at the 14th Pan American Maccabi Games this summer in Mexico City. The Pan American Maccabi Games are a celebration of Jewish unity, culture, and heritage through athletic competition. He will swim against athletes from the USA, Mexico, Brazil, Argentina, Venezuela and Chile. The Pan American Maccabi Games are held every four years in either Mexico or a country in South America and are sponsored by the Latin American Maccabi Confederation (CLAM). He will be one of more than 550 athletes from the United States and compete in 12 individual and four relay events.
He participated in the JCC Maccabi Games in the Capital Region in 2017 and Orange County Calif. in 2018. Eli said, "These experiences have allowed me to have competitive athletics as well as bond within my Jewish community." His Maccabi record over the past two years is 11 Gold, 4 Silver and 1 Bronze.
Eli swims for the Glenville YMCA Porpoises as well as for Niskayuna High School. He has competed at 5 YMCA State Championship meets, including a state champion title. He is an A range student at Niskayuna and placed 4th during the 2018 Section II championships.
At Agudat Achim, Eli participates in Shabbat services and works as an aide in the religious school. He is  involved in United Synagogue Youth (USY), where he is the Israel Affairs vice president for the Tzafon Region.