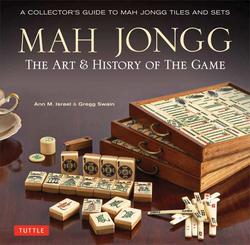 The Women's Philanthropy division of of the Jewish Federation of Northeastern New York will host its 10th anniversary community-wide event featuring Gregg Swain, co-author of Mah Jongg: The Art of the Game. Swain will share how "The Jewish Tradition of Mah Jongg" has helped people during trying times, and the role it has played in aspects of Jewish social life. The event will be at Beth Emeth, 100 Academy Rd., Albany, on Thursday, March 23, at 7 p.m. Wine and snacks will be served.
Swain grew up in New York City. She reports that although she wanted to learn to play Mah Jongg for many years, she only learned how to do so in 2010.  Intrigued by the art on the tiles of vintage sets, she found out that there was nothing written about Mah Jongg's images and she set out to research them.
Following the book's publication, Swain was invited to lecture throughout the United States about Mah Jongg and the images on the tiles, and the game's importance in various communities.
Following Swain's presentation, guests will have an option of playing Mah Jongg, Canasta, Bridge, Pinochle, Rummikub, or Bingo. Novice Mah Jongg players will receive instruction.
Cost for the evening is $25 per person, $18 per child (ages 13-22), paid in advance. Entry at the door will be $30 per person.  Registration may be obtained at www.jewishfedny.org/events/wpcwe2017 or by calling the Federation at 518-783-7800.
Mah Jongg: The Art of the Game will be sold at a discounted price at the program.