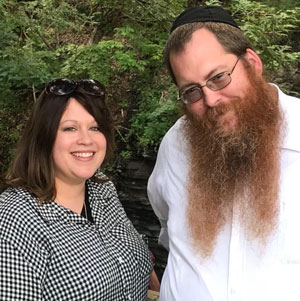 The Maimonides Hebrew Day School's annual dinner has been announced for Thursday, June 17, and will be held at Schenectady's Central Park's outdoor pavilion. This year's dinner will honor and bid farewell to Rabbi Shmuel and Morah Rivka Kochman. The school will present the Kochmans with The Maimonides Award as "Community Essentials." The Kochmans plan to move to Baltimore this summer.
Shmuel is familiar to many as he has served communal kosher needs for nearly 20 years at the Colonie Kosher Price Chopper. Morah Rivka headed Maimonides' nursery for over a decade. The Kochmans were involved with other community organizations, such as the Bnos Israel Mikvah and Chevra Kadisha Burial Society. They and their five children were prominent members in the Maimonides School, and the greater Capital Region Jewish community, according to Rabbi Israel Rubin, Maimonides School rosh yeshiva,
There will be a limited dinner seating capacity due to COVID 19 distancing guidelines.   
The Maimonides School located in Albany will also be celebrating this full year of in-person school despite COVID challenges and restrictions with an online campaign year-end fund-raiser.
The online crowdfunding campaign will run for 40 hours— from  Monday, June 8, through Tuesday, June 9— at www.Charidy.com/maimonides. All funds raised will be matched by Maimonides supporters. Dinner journal ads submitted by June 7 will be included to reach the matching fund goals.
The dinner journal will also recognize this year's 8th grade and high school graduates. The graduation ceremonies will be held (weather-permitting) outdoors on Sunday, June 20.
Information about the crowdfunding and dinner event, may be obtained by contacting the school office: 518-453-9363 or by calling Raizy Rubin, coordinator of the two events, at 518-772-7299.