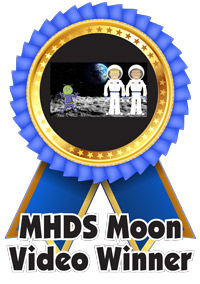 ALBANY– Rabbi Israel Rubin, rosh yeshiva of the Maimonides Hebrew Day School of Albany, reports that the school won second place in an Israel Embassy "Fly Me to the Moon" video contest.
The contest was in conjunction with Israel's launching and trip to the moon with the SpaceIL Beresheet spacecraft. The spacecraft later crashed while attempting to land on April 11.
The students followed the Beresheet project from its Cape Kennedy Launch through its expanding orbits around the earth, through its multi-million-mile trajectory.
Students of Rabbi Michael Caras and the school will receive several prizes for their efforts.
The video may be viewed here: www.tinyurl.com/maimonidesmoon
Rubin reported that the Maimonides students are familiar with the original Rambam Maimonides graphics in his Sanctification of the New Moon.
When the Maimonides "Better -Together" program students shared their excitement about the Israeli launch with Massry seniors, seniors recalled the U.S, 1969 Apollo landing 50 years earlier.