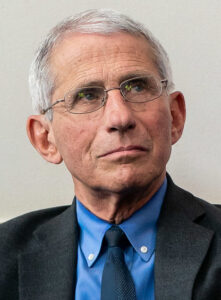 (JNS) – To mark Holocaust Remembrance Day, on April 7, International March of the Living, together with the Maimonides Institute for Ethics and the Holocaust, the Miller Center at Rutgers University, the USC Shoah Foundation and Teva Pharmaceuticals held an online symposium on "Medicine and Morality: Lessons from the Holocaust and COVID-19."
The program, included testimony from survivors who were both persecuted by Nazi doctors and saved by medical professionals during the Holocaust. It featured world-renowned medical professionals and researchers who discussed medical resistance during the Holocaust, the legacy of Nazi medicine, and what the Holocaust can teach us about the ethics of care.
During the symposium, Dr. Anthony Fauci, director of the U.S. National Institute of Allergy and Infectious Diseases and chief medical adviser to the president, received the "Moral Courage in Medicine" award for his work in combating COVID-19, his long history of leading the battle against infectious diseases, and his dedication to the health and well-being of humankind.
The event  also included a performance of "Schindler's List" by Grammy Award winner and United Nations Goodwill Ambassador of Music Miri Ben-Ari, herself the descendant of Holocaust survivors..
This article first appeared in Israel Hayom.