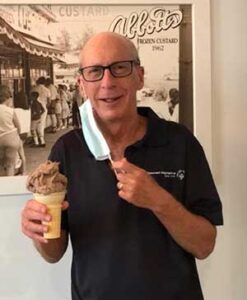 By MARILYN SHAPIRO
How will I celebrate a milestone birthday during the pandemic?  That hoped-for week away with my family is out. A party at my home is out. Heck! My husband Larry and I can't even head to my favorite restaurant and indulge in a filet mignon and a free birthday brownie sundae. But there is a silver lining. An Abbott's Frozen Custard stand is less than 33 miles away from our Florida home!
The history of one of my culinary favorites began in 1902 when a young and enthusiastic Arthur Abbott traveled the Eastern seaboard with summer carnivals. He eventually found his way to Rochester, N.Y., where he opened a stand across the street from Charlotte Beach on the shores of Lake Ontario and near a popular amusement park.
From Meat To Dairy
According to the Abbott's website, as word of his frozen concoction spread, people lined up from morning to night. As a result of his new success, Arthur was able to buy and train his own racehorses. When he struck it rich after Blue Man won the Preakness Stakes, Abbott, now in his 70s, retired. In 1957 he turned over his scoops to fellow frozen custard lovers Lenny and Thelma (Tiby) Schreiber. For many years, Tiby's parents had owned a kosher meat market in what had been, during the 1930s, the heart of the Jewish community on Joseph Avenue in Rochester. The Schreiber's daughter Gail Drew and her family now run the franchise. To this day, Abbott's supports the Tiby Schreiber Scholarship of the Jewish Home of Rochester for the children of employees of the skilled nursing home who are heading off to college.
Brenden Drew, a grandson, grew up in the family business where he had started by taking out the trash and washing dishes. He now is responsible for business development and franchising. "Every day it is an honor and a privilege to help grow the family business," Brenden said. "Our family loves supporting our communities and making each one of our guests happy and so do each one of our local owners who truly live the brand."
Accidental Discovery
It took the Shapiro family a few years to discover Abbott's. In the early '90s, Larry and our daughter Julie went to western New York for a track and field competition. They spent the night before the race with Larry's sister and her husband, who lived in Rochester. They grabbed dinner on Charlotte's Beach, followed by dessert at Abbott's.
Larry was hooked from the first lick of his chocolate almond cone and soon introduced the rest of us to it.  Everyone who knows me knows how much I love ice cream. But Abbott's chocolate almond frozen custard is in a class by itself. The chocolate custard is rich and smooth and creamy and delicious. What makes it outstanding are the roughly chopped roasted almonds that are stuffed into the custard. As one reviewer on Yelp raved, "It is like sex in frozen form!"
Once Is Not Always Enough
Whenever we went to Rochester, we made sure Abbott's was on our agenda. Fortunately, our son Adam spent four years at University of Rochester, so we had plenty of chances to make a stop when we were there.
Sometimes once was not enough. In 2003, Larry and I went to a wedding that was held in a church in Rochester. On the way to the reception, Larry and I stopped at Abbott's for a pre-dinner cone. The next day, we went with the bride's parents to another Abbott's for a second helping. They knew how much we loved this stuff. When Larry had surgery on a torn ACL a couple of years later, they had the company ship out a couple of quarts to him. He graciously shared it with me.
We thought Abbott's was only located in Rochester. In 2012, however, Larry and I were in Naples, Fla., strolling down Fifth Avenue, when Larry began running down the street. "Come on! Come on! I have a surprise for you!" There in front of us was an Abbott's Frozen Custard! Yep! Time for another chocolate almond cone.
More Franchises
Then the Naples franchise closed.
Thankfully, another one of Larry's sisters spends their winters in Vero Beach, and every time we visit her and her husband, we would hit Abbott's. They don't even have to be there. We celebrated Larry's 70th birthday by going to a beach farther down the coast and stopping at Abbott's on the way home.
Vero Beach is 100 miles away, not conducive to regular visits. And we don't get to Rochester very often. So imagine our joy in discovering that an Abbott's opened up in Winter Garden, only 37 miles up the road. We celebrated Father's Day 2020 with our first visit. It was almost as wonderful as we imagined, but we think they didn't hear our request for chocolate almond as we realized halfway through our cones that the familiar crunch was missing. Two days later, we had to get a bike tire fixed, and we were only 16 miles away from Abbott's. So what is a 32-mile detour? This time we not only got plenty of almonds, but the size small was bigger than the previous Sunday's medium. Heaven!
We made our third trip a couple of weeks later. Another bike tire blew, and we did another detour. I am sure we will squeeze in another visit before my Labor Day weekend birthday. We are running out of bike tires, but there will be  another good reason.
When we make our trip for my birthday cone, I will pack a cooler and plenty of ice and we will bring extra home, including a quart for friends in our community who previously lived in Rochester. It may not be the celebration for which I hoped to kick off my eighth decade. But it's a sweet start!
Marilyn Shapiro, formerly of Clifton Park, is now a resident of Kissimmee, Fla. A second compilation of her articles printed in The Jewish World has been published. Tikkun Olam now joins There Goes My Heart. Shapiro's blog is theregoesmyheart.me.