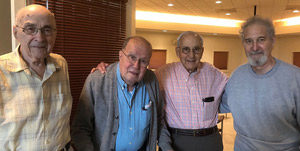 ALBANY–"The Massry Assisted Living Residence on the Daughters of Sarah campus is a community where friends and family come together to enjoy the best of what life has to offer. We all know how important it is to stay active, no matter our age. We are delighted to see that those who are at home at The Massry Residence are really creating a healthy sense of community by bringing their friends together to form interest groups of their own," shared Roz Judd, president of the residence.
The residents have resident-coordinated groups, which currently include: Conversational Yiddish, Art Class, the Men's Group, Women of Wisdom, Book Club, Knit & Nosh, Creative Writing, Poetry, Crossword Puzzle Group, and Parshat Hashavua (Parshat study).
"It is important to keep active and involved in the things that interest you," commented Bill Rockwood, resident and coordinator for the Men's Group. "Men have their own issues and concerns, and we want to discuss those from our perspective," added Rockwood.
Zeva Greendale, one of the Yiddish conversationalists, shared, "It's our heritage. Yiddish helps to keep life in our wonderful memories. Oh, the stories we could tell; some things you just can't translate into English."