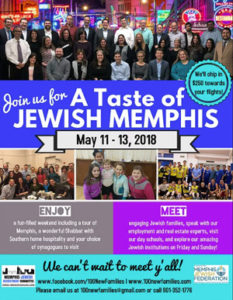 The Memphis Jewish community will showcase itself at a "Taste of Memphis" weekend, May 11 through the 13.
Fifty Jewish families have relocated to Memphis over the past three years, moving from cities including Rochester, Boston, Teaneck, Las Vegas, New York and Seattle.
"We are confident that 'A Taste of Memphis' will again be successful," said Joel Siegel, one of the volunteer leaders of the '100NewFamilies Committee.' He added, "it will enable many young families to discover that our city is the ideal destination for those seeking a fantastic quality of life with all of the Jewish amenities."
Memphis has seven synagogues, a JCC, a kosher bakery, and kosher delis
To encourage Jewish families to explore life in Memphis, the community is offering an incentive package, including a $250 subsidy towards a family's flights for a weekend visit. New Memphians will receive three months of free membership at the JCC. Also, students enrolling at either Jewish day school will receive a significant discount for the 2018-19 academic year. Lastly, families who move to Memphis will receive $500 towards relocation expenses.
Details are available at www.100newfamilies.com or by calling 901-352-1776.