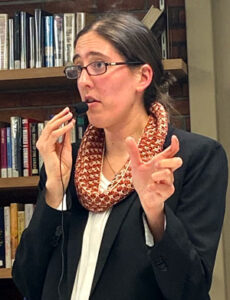 ALBANY–"Reconstructing Miriam" will be the topic at Congregation Beth Emeth's next "virtual" 'lunch and learn'program on Wednesday, March 3, from 1 – 2 p.m. Rabbinic Intern Alexandra Stein will discuss the enigmatic biblical character Miriam, who shows up at a number of crucial moments in the story of the Israelites' exodus from Egypt and journey to the Promised Land.
Miriam is called a "prophet," but the pieces of her story preserved in the Torah are much more fragmentary than that of either of her brothers, Aaron and Moses. Attendees will look at the biblical texts that mention Miriam, exploring what they teach us about her and which questions they leave unanswered, and then study some midrashic and modern interpretations of Miriam's story, with an eye towards which questions these interpretations answer, and which questions remain.
Zoom registration may be obtained at bethemethalbany.com. Deb Sokoler at DSokoler@BethEmethAlbany.org can provide details.