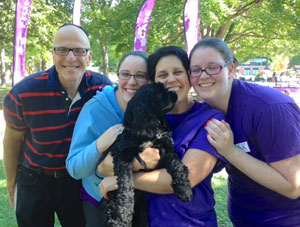 By STEFFI SILON
I am sharing my story with readers of The Jewish World in hopes of raising awareness and education in the community with respect to Alzheimer's disease.
My husband, Bruce Gottlieb, and I were married for 42 years prior to his death earlier this year, January 2, 2021. We had both worked for many years in challenging, meaningful jobs in the education and health professions, respectively. He was just 65.
Bruce's death was caused by Alzheimer's disease, a fatal progressive disease that attacks the brain, killing nerve cells and tissue, affecting an individual's ability to remember, think, plan and ultimately function.
Happier Times
Bruce and I had enjoyed many years of traveling throughout the United States, Montreal, Quebec, Puerto Rico, the West Indies, Israel and Europe. We, and our two daughters Nari and Mara, also traveled regularly, often to Chicago where Bruce's parents lived.
We also loved spending time with our families, and entertaining friends in our home. Our families could count on us to celebrate Rosh Hashanah, Passover, as well as Thanksgiving. Our friends knew that Chanukah and Purim were our holidays.
Who Gets This?
Prior to discovery of his illness, Bruce was an active, physically fit lean man, riding his bicycle long distances almost every day. He maintained a healthy lifestyle without smoking or drugs, and an only occasional small glass of red wine. Bruce definitely liked to eat, typically choosing healthy selections with no or little fat, sugar and salt. He did not have any chronic illnesses such as high blood pressure, diabetes, or high cholesterol. He often consumed 11 daily servings of fruit and vegetables, along with whole grains, nuts and tofu. I share this with you as some may believe that only obese, sedentary and/or "junk food" eaters will develop Alzheimer's. Because of his healthy nutrition and exercise regimes combined with his very challenging, thought provoking employment many would not consider him a likely candidate for an Alzheimer's diagnosis.
This shows how difficult it is to predict or identify who may be demonstrating early symptoms of this disease.
Our Story
Approximately 11 years ago, Bruce began to display unusual behavior, unusual for him. For example, he did not remember that we had just spoken with his mother on the telephone or that we had just been to the movies. This short-term memory loss is quite different from misplacing one's keys. At the time, he did not believe that anything was wrong or different. Therefore, it was an additional two years before I finally persuaded him to meet with a neurologist. Two separate neurology practices did not believe he should worry about his memory lapses, the physicians falsely assumed that because he was well educated, he would not be a candidate for dementia.
Nevertheless, he was advised to have a complete neuro-psychological exam, which is an extensive written and verbal test lasting between five and six hours. As you may guess, the results were clear that he had Mild Cognitive Impairment (MCI), which is often the precursor to Alzheimer's disease.
Thus, our journey began. I was reading and learning as much as I could about this disease, but Bruce was in denial. During the first few years, Bruce did not look different, nor did he act markedly different when interacting with family members, friends or while working. He remained his dedicated, responsible yet fun loving, jovial self.
The reason I share this with you is that many individuals did not at first believe my concerns for Bruce, as they did not see changes in his behavior, ability or mood. This was hurtful. This type of attitude could lead to delay in medical care and support services.
Bruce was 56 years old when we received the MCI diagnosis. As you recall, I had noticed signs and symptoms for at least the previous two years. When people are diagnosed with Alzheimer's disease prior to the age of 65, this is known as Young Onset Alzheimer's disease. The progression or decline is markedly faster than it is for individuals that are older, in their seventies, eighties and nineties. Typically, with Young Onset— from diagnosis to death is between eight to 10 years.
Getting Help
I believe that we all need to be aware and educated on this sixth leading cause of death. There has been much research and advancement in treatments for heart disease, diabetes and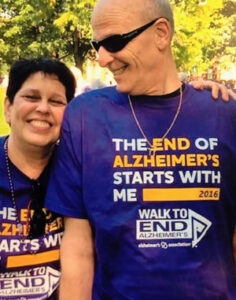 cancer. Historically, there has been no treatment, cure or prevention for this debilitating and heart-wrenching disease. However, within the past couple of years, funding has increased with more research and clinical trials occurring internationally.
In 2012, when Bruce received his diagnosis, I immediately contacted The Alzheimer's Association in our region. We are fortunate that our chapter of the association is located in the Capital District. Beginning with an educational group, I began to learn about this disease, and what to expect during each stage. The staff at this organization is exceptionally knowledgeable and they are truly committed to what they do, helping caregivers on this difficult path. These dedicated people met with me individually, with Bruce and with our adult daughters to assist us with better understanding of Alzheimer's.
Throughout Bruce's illness, I attended several support groups for caregivers. The first was comprised of people caring for their elderly parents or spouses.  Although I was the youngest participant, the only person with a spouse in his 50s, all of us bonded in an atmosphere of trust and concern.  Five years ago, when Bruce was 60 years old, Erica Salamida, director of education, offered a support group for individuals with Young Onset Alzheimer's and their caregivers. We, caregivers, met with a social worker from The Alzheimer's Center at Albany Medical Center, one of only 10 Centers of Excellence for Alzheimer's Disease in N.Y., while the individuals with the disease, met with another facilitator in a nearby room. This time was important for all of us, as we all were experiencing similar circumstances.
I would encourage everyone who is questioning, wondering, and/or concerned about his or her person, to contact The Alzheimer's Association, 1-518-867-4999. In addition, The Alzheimer's Helpline, 1-800-272-3900, is available to answer any questions, 24 hours per day. Without the Alzheimer's Association, with its many educational and support groups, I would not have gained the knowledge and understanding of this disease. My two daughters also received much support from the association's staff.
Participating in the yearly Walk To End Alzheimer's in September, attending the yearly conferences as well as other workshops provides an opportunity to learn as much as you wish as well as to make connections with those who do understand and develop relationships, which are exceedingly beneficial for the caregiver.
Also, The Eddy Alzheimer's Services, open to every one in the region, provides many support groups and learning opportunities. The most advantageous aspect of its program is the wonderful volunteers who assist both the person living with the disease as well as the caregivers. Sandy Monahan is the coordinator of this program and works tirelessly to match a volunteer with one in need.
Bruce enjoyed time with several volunteers who came to our home to provide companionship.
They had lunch together, went on walks with our dog, Meredith, visited parks, watched Bruce' s favorite TV shows with him and frequently enjoyed a bagel and coffee together. Often they would go to Whole Foods Buffet (prior to COVID), he would fill his carton to the very top. He was unaware of how much food he was packing into this carton, but the volunteer would just go with the flow. These remarkable people receive extensive training about Alzheimer's, meet regularly with Sandy and learn effective, appropriate ways to interact with persons with the disease. This program assists numerous folks in many counties and communities. This organization assists numerous folks in many communities. The volunteer division of The Eddy Alzheimer's Services is "faith based," whereby prospective volunteers learn about this opportunity though their house of worship. Many churches throughout the greater region participate with this program.
Jewish Support
Bruce's faith was important to him. While he was raised Conservative, most of our married life we were affiliated with the Reform congregation of Beth Emeth. Our girls experienced both their bat mitzvahs and confirmations at Beth Emeth. They were both teacher aides in the classrooms, one- on-one tutors, and they also worked with students with special needs. I taught Hebrew school for first through third grades for eight years. After Bruce's father died in 2009, Bruce began to embrace a more Orthodox lifestyle. He started to practice the more traditional, ritualistic aspects by attending services daily, keeping kosher, and observing the Sabbath. While this was a dramatic change, he was content finding solace and community within the Orthodox synagogues with which he became affiliated.
We were fortunate to have maintained close contact with several clergy throughout the years. These rabbis expressed their caring and love for Bruce, Nari, Mara and myself by offering both in person, and Facetime blessings. We worshipped together, sang songs, and blessed Bruce, expressing our eternal love for him. Of course, during the many months of COVID-19, we did not have visitors to our home, other than The Community Hospice staff, also an outstanding group of individuals. Therefore, the connection with these exceptional rabbis was meaningful for our family.
Bruce's Alzheimer's was a long, difficult journey as I watched my life partner, my husband diminish and deteriorate every single day. The losses of this disease are monumental, occurring frequently. In the Alzheimer's world, this is known as anticipatory grief, as one grieves throughout the disease with each loss.
It is my hope that our Jewish World readers know and understand that Alzheimer's is not solely short term memory loss.  Individuals with this disease typically experience cognitive decline which may include difficulty thinking and understanding, confusion, difficulty concentrating, inability to create new memories, long term memory loss, loss of judgment, and inability to participate in decision making and conversations. Many persons experience behavioral changes, which may include agitation, irritability, restlessness, repetition of one's own words, and wandering or getting lost. Psychologically, some people may become depressed, hallucinate or feel paranoid. One's mood may change expressing anger, general discontent or loneliness. Bruce experienced many of these symptoms at different stages of his illness, frequently not observed by anyone other than our nuclear family unit.
We owe it to ourselves to provide the best care for our loved ones. We also need to take good care of ourselves as we care for others. I am fortunate that I have two wonderful, caring daughters, who were on this journey with Bruce and I. Not everyone has this good fortune, which makes receiving support from others who understand that much more essential.
I encourage all Jewish congregations in the region to participate in the support system of The Eddy Alzheimer's "faith based" services. It is also extremely beneficial to be in contact and participate with the Alzheimer's Association, allowing oneself to learn, grow and understand the many aspects of this disease. We can all learn from each other as we provide the gifts of companionship, understanding and support for the many individuals who are touched by this horrific disease.
Editor's Note:  A new drug, approved June 7 by the FDA named Aducanumab has many in the Alzheimers's Association excited and hopeful. It is the first therapy that targets the fundamental pathophysiology of the disease by targeting amyloid deposits in the brain and it may delay decline in individuals if administered at the outset of the disease. Thus if you or a loved one  is experiencing memory changes an early diagnosis may be beneficial.
Helpful Information:
The Northeastern Chapter of The Alzheimer's Association website is alz.org/northeasternny
The Northeastern Chapter of The Alzheimer's Association, 1-518-867-4999, The Eddy Alzheimer's Services, 518-238-4167, 24 hour Alzheimer's Association Helpline, 1-800-272-3900, The Center of Excellence for Alzheimer's Disease at Albany Medical Center, 518- 262-0800 and The Community Hospice 518-724-0200.