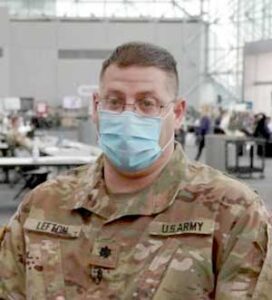 The Capital District Council of the Jewish War Veterans (JWV) Post 105 and Post 106 invites members of the community to join with the JWV for a virtual brunch Sunday, Jan. 10, at 11 a.m. A discussion of the NewYork National Guard's coronavirus response in 2020 will be featured. The program speaker will be New York Army National Guard Lt. Col. Aaron Lefton, brother of Post 106 member Jason Lefton. The  program is open to any local Jewish veteran, whether or not a member of JWV.
Post 106 will deliver a bagel brunch to JWV members in the greater Schenectady area prepared by the Beth Israel Sisterhood. Other attendees are invited to prepare their own brunch.
Aaron Lefton has been a member of the New York Army National Guard for 20 years. In 2004, he deployed to Iraq with the 1st Battalion, 69th Infantry, the "Fighting 69th" in support of Operation Iraqi Freedom. In Iraq, he served as an infantry platoon leader and led combat patrols in Baghdad.
In N.Y. , Lefton has served in support of domestic operations such as the responses to Hurricane Irene and Superstorm Sandy.
Aaron Lefton is the commander of the COVID 19  response task force.The task force has over 1,600 service members from the National Guard serving across New York from Buffalo to Long Island. The troops support drive-thru testing sites, helps assemble COVID-19 test kits, secures alternate care facilities, helps to screen travelers at airports and operates medical supply warehouses.
 Gene Altman at galtman903@aol.com may be contacted for the video conference login and to make reservations for the Schenectady-area brunch.