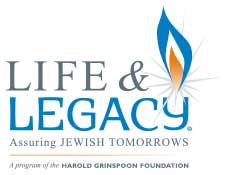 ALBANY– Two hundred and seventy eight local donors have made 523 legacy commitments to support the Northeastern New York Jewish community. These commitments are part of a collaborative endowment-building effort that includes eight Jewish organizations and congregations, the Jewish Federation of Northeastern New York and Harold Grinspoon Foundation's Life & Legacy initiative, the goal of which is to provide future financial stability.
"Life & Legacy has given us the tools to work towards securing the financial future of each of our organizations," said Jesse Holland, chairman of Life & Legacy Northeastern New York. "It has given us the opportunity to work together to build the future together. Not only do we work together with local organizations, but we are part of something so much bigger than our northeastern New York community; we are part of a national movement focused on a bright future."
Holland explained that in fewer than eight years, Life & Legacy has motivated more than 17,000 donors in 63 communities across North America, to commit more than $1 billion dollars in current and after-lifetime assets to the Jewish organizations that have shaped their lives.
Holland said, "In challenging times like these, endowments provide organizations with the financial stability to meet evolving needs. Legacy commitments ensure that organizations providing impactful programs and services during both calm and turbulent times have the necessary resources to adapt."
"The cooperation and collaboration fostered by Life & Legacy as local organizations work to a shared goal of endowment building is especially critical now," said Arlene D. Schiff, national director of  Life & Legacy. "Even in the midst of so much disruption and uncertainty, we continue to empower many generous and committed individuals and families to give back to the Jewish organizations that have played and are playing an important role in their lives."
A list of local Life & Legacy participating organizations and the donors who are supporting them may be found at jewishfedny.org/life-and-legacy.
"Providing Jewish organizations with a strategy to help secure their long-term financial goals is absolutely vital, especially now in the middle of an economic crisis," said Harold Grinspoon, founder of HGF. "Supporting our Jewish institutions is critical to ensuring future generations are able to enjoy our rich culture and heritage. I am thrilled that Life & Legacy is motivating donors to make legacy commitments that will sustain vibrant Jewish communities for years to come."
Information about  Northeastern New York's Jewish future may be obtained by calling the Federation at 518-783-7800, ext. 230 or on its website,  jewishfedny.org/life-and-legacy.