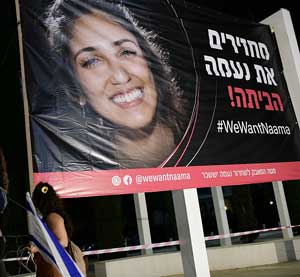 (JNS) – Israeli Prime Minister Benjamin Netanyahu sent a letter to an Israeli-American woman imprisoned in Russia on drug charges, promising to do everything in his power to secure her release.
"We are here in Israel, and you are in Russia, but the distance between us is bridged by the closeness of our hearts," Netanyhu wrote in the letter, a copy of which was distributed by his office.
"Our people have always been characterized by a heritage of mutual guarantee—we do not abandon anyone to his fate, and so it is in your case. The State of Israel and I are making constant efforts for your release."
Naama Issachar, 27, has been in Russian custody since April, when Russian authorities found 10 grams of cannabis in her luggage during a layover in Moscow. She was sentenced to seven-and-a-half years in Russian prison on drug smuggling charges. It is widely believed that Issachar's heavy sentence may have been designed to pressure Israel into not extraditing a known Russian cyber-criminal to the United States.
The letter was sent a week before Russian President Vladimir Putin is slated to visit Israel, and according to Netanyahu's office was received by Issachar on Sunday, Jan. 12.
Recently, Israel released two Syrian prisoners in what analysts say was a goodwill gesture to Putin.
Earlier this month, Issachar's mother, Yaffa, called on Israeli President Reuven Rivlin not to host Putin in protest over Naama's imprisonment.
"It is inconceivable that you, the president of the state, will receive at the President's Residence … the president of Russia, who is holding my daughter Naama as a political bargaining chip for extortion," Yaffa wrote in a letter published on Facebook. "I would like to inform you that it is my intention to come straight from Moscow to the entrance to the President's Residence that same evening and block the entrance of the Russian president and his delegation with my body," she added.
In a call between Yaffa and Netanyahu, the mother expressed her gratitude to the prime minister for his letter, which she said greatly strengthened and encouraged her daughter, reported The Jerusalem Post.
"I will continue to do everything to bring Naama home as soon as possible," he replied.