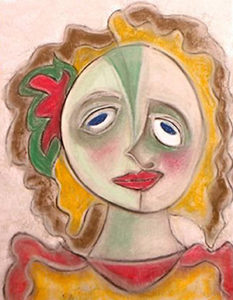 SCHENECTADY–Artist, author and speaker Leslie B. Neustadt will display her artwork in an exhibit entitled "About Face," at the Schenectady Jewish Community Center, 2565 Balltown Rd., through Sunday, April 30.  
An artist's reception and interactive workshop will be held on Sunday, March 5, from 3 to 5 p.m. Attendees will be invited to explore the connection between image and the written word in Neustadt's ekphrastic poems.
Organizers explained that Neustadt's artwork, writing, and lectures give voice to her experiences as a woman, daughter, wife, mother, patient and survivor. Though unschooled, she began to create visual art in the expressive arts tradition as a way to honor the memory of her sister, who was a professor of art therapy as well as cope with her own cancer journey.
Neustadt is a resident of Niskayuna and is a congregant of Berith Sholom in Troy.