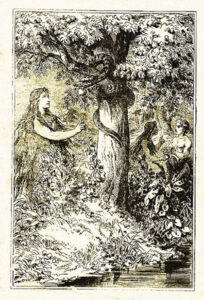 ALBANY–A new course taught by Rabbi David Katz at B'nai Sholom Reform Congregation in Albany will look at Midrashim, legends created by the Jewish people. "The Legends of Our People – Past and Present" will be offered three Wednesdays beginning April 21, 7-8:15 p.m. via Zoom.
According to organizers, for example, before Eve there was Lillith, who dissatisfied Adam and that is why God created Eve — to be a helpmate. Why do we not hear of Lillith?  She does not appear in the Bible. She appears in Jewish stories. This tale will begin the study of Midrashim: the legends of the Jews.  Over three Wednesdays, the course will look at the ancient writings, the legends that continue to be written today and the stories that are currently being created.
"The Legends of Our People – Past and Present" is open to the public.  Registration is required. Cost for the public is $15 and for B'nai Sholom members, $10.  Registrants will receive a confirmation e-mail with links to access the course. Registration may be obtained from the B'nai Sholom office: 518-482-5283 or office@bnaisholom.albany.ny.us.