ALBANY–The application deadline for the Herbert A. Applebaum scholarship for male high school seniors, and the Lenore Bellin scholarship for female high school seniors is Friday, Dec. 22.
The scholarships will be awarded to students who have established leadership in an Albany Jewish youth organization, and involvement with the Sidney Albert Albany Jewish Community Center (AJCC), synagogue, school and/or community.
Applebaum and Bellin were members of the Center who died at the age of 19.

Applicants will be expected to write a brief essay on why they should be considered for the awards detailing accomplishments and involvements.
Each scholarship winner will receive a reward check from the Center.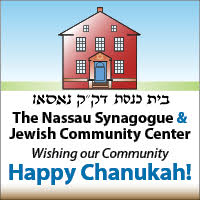 Andrew Katz, Center director of youth services, 518-438-6651, ext. 113, or [email protected] can provide applications and information. Applications may also be obtained from, and mailed to Katz at the Center, 340 Whitehall Rd., Albany.
Scholarship winners will receive their checks at the annual AJCC Pillars Award Ceremony in the spring of 2024.