Steven Stark-Riemer and Audrey Seidman to be featured guest lecturers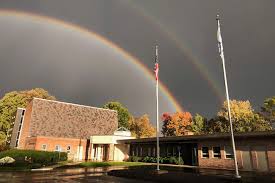 ALBANY– Congregation Ohav Shalom is again offering classes, open to members and non-members, as part of its Lifelong Learning Series.
This fall, Ohav will feature The Diversity of Ancient Israel: A Retrospective of Archaeology, History, and Religion, which will be taught by Steven Stark-Riemer. Diversity — of community, of thought, of practice —has marked ancient Israel from its beginnings in the central hill country of Canaan to its life in the diaspora. This course, consisting of eight 1½-hour sessions, is built on the instructor's ongoing study of the archaeology, history, and religion of ancient Israel. Classes began on Tuesday evening, Oct. 29, and continue on Tuesdays, Nov. 5, 12, 19, and 26, Dec. 3, and 10, and on Thursday, Dec. 19, at 7 p.m.
Stark-Riemer studied anthropology at City College of New York where he specialized in archaeology, and received his degree in 1972. He is an attorney who was the acting deputy counsel for litigation at NYS Office of Mental Health until he retired in 2012.
From Aging to Sage-ing®: Living as a Spiritual Elder, a five-session workshop, to begin in December will be facilitated by Audrey Seidman. People who wish to live their elder years more consciously, more joyfully, and more compassionately are invited to this workshop series. The workshops will be held on Tuesday afternoons from 1:30 to 3 p.m. on Dec. 3, 17, Jan. 7, 21, and Feb. 4. All who want to gain deep meaning in the aging process are welcome, according to organizers. Participants will be encouraged to attend all the sessions, the first of which is essential. Purchasing the book, From Age-ing to Sage-ing®, is suggested, but not required. Pre-registration is required.
Seidman, who completed a two-year Sage-ing® Mentorship program in 2016, has previously offered this program through Jewish Family Services and AARP-NYS. She is also a spiritual director and has completed three units of clinical pastoral education at Albany Medical Center and serves as an outreach chaplain for the Jewish Federation Chaplaincy Services. She retired in 2015 from careers in public relations and organization development, last serving as manager of Employee Engagement Programs at a New York State agency.
Many Voices: Ta Sh'ma (Come and Hear) 2019-2020, a study and discussion and exploration of classic Jewish texts that teach the values of pluralism, honoring of different perspectives, and respect for all people regardless of their differences is slated to continue. Knowledge of Hebrew and previous text study experience is not required. Taught by Rabbi Rena Kieval on Thursday mornings from 11 a.m.-12:15 p.m. the class resumes March 5. Set dates are March 12, 19, 26, April 2, and 23. Additional other spring dates are yet to be scheduled.
Additionally, Study Talmud 2019-2020, a class led by Rabbi Dan Ornstein is being held on Monday mornings at 11 a.m. through June 8. No prior knowledge of Hebrew or Talmud is necessary. There are two evening dinner classes on Dec. 16 and March 30 that are slated for 6 p.m. Participants are asked to bring a copy of the Schottenstein Babylonian Talmud, Tractate – Brakhot Volume 2.
Cost for each class for members is $42 and $54 for non-members. Registration and information for any of the classes is available at https://www.ohavshalom.org/learn-with-us/lifelong-learning/ or by contacting the Ohav Shalom office at 518-489-4706, ext. 10.