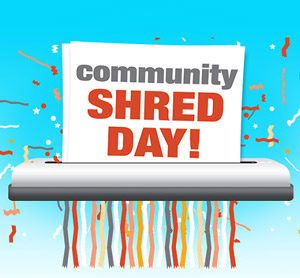 ALBANY– Congregation Ohav Shalom invites members of the congregation and the greater Capital District community to Shred-It Day on Friday, May 31. The event begins at noon and ends at 3 p.m.
Attendees are encouraged to bring their unwanted shreddable items to the synagogue at 113 New Krumkill Rd., Albany. Ohav Shalom is working with the company Shred It.
According to organizers, shredding personal documents helps to combat identity theft and declutter homes and offices. At this event, the shred trucks will use a cross-shredding technique that is more secure than home shredding, and participants do not need to remove staples from their documents.
Organizers at Ohav Shalom report that the congregation has adopted several eco-friendly policies over the past year, including using only recyclable materials for food-centric gatherings — catered events as well —  and composting discarded food items. The congregation has a committee dedicated to focusing on "green" efforts called Shomrei Adamah — which translates to "guardians of the earth."
"Taking care of our environment is a key teaching in the Jewish faith, stemming from the mission of tikkun olam, repairing the world," says Rabbi Rena Kieval. "Being able to bring programs like this to the greater community is very important to us and we hope it becomes an annual event!"
The fee structure is as follows: personal shredding is $10 per person, with unlimited
documents, compact discs and credit cards; small business shredding is $50 per 10 banker boxes. Payment may be made by cash or check; credit cards will not be accepted. The shredding will be sent to a recycling company for environmentally sound disposal.
Shred-It Day coincides with one of Ohav Shalom's other main spring events, the bi-annual rummage sale is slated for June 2.  Those wishing to donate items for that event  may do so on Friday, May 31 from 9 a.m. – 2 p.m. Details about Shred-It Day or the Spring Rummage Sale, may be obtained from  Cecelia Soloview at 518-489-4706.