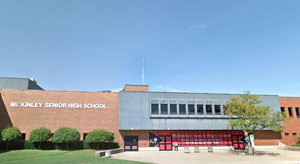 (JNS) – A high school football coach in Ohio was placed on administrative leave on Wednesday, June 2, after allegedly making a Hebrew Israelite student eat pork.
Coach Marcus Wattley and seven assistant coaches at McKinley High School in Canton reportedly made a Hebrew Israelite 17-year-old football player eat an entire pepperoni pizza as punishment for missing a weight-lifting session on May 20, claimed the student's family attorney Edward Gilbert.
Seven other members of the football team's coaching staff were also suspended by the Canton City School District.
Gilbert told 19News that it was common knowledge among the football community at school that the teen did not eat pork for religious reasons.
"He was ordered to eat that [pizza], and if he did not eat it, then he would be most likely removed from the team, and the other teammates would have to do extra exercise that day," said Gilbert. "So you have the whole team around in this gym. You have eight coaches there yelling at him that he has to eat this stuff."
After the teen finished the pizza, he was told to do more exercises, said Gilbert.
"It's our view that certainly for religious reasons this was inappropriate," explained the attorney. "It was a dumb thing to do by the coach, and we haven't been able to understand what was in this coach's mind at the time. To punish a kid thing like this for his religious beliefs is certainly beyond ridiculous."
According to Gilbert, the student's family is considering filing a lawsuit against the school district. He added that the family has not decided if the student will go back to the school, but "most likely, he will not."
The high school said it is investigating the incident.