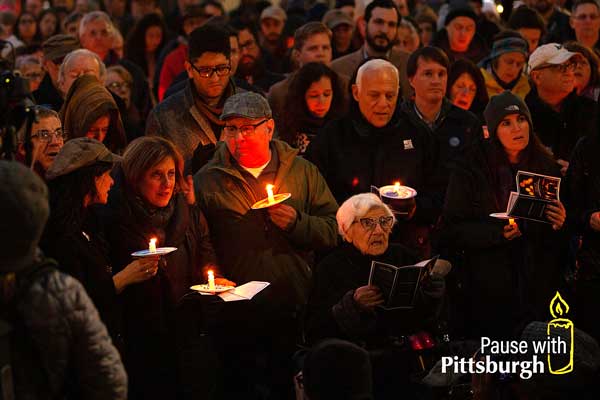 Almost one year ago, on a quiet Saturday morning, Pittsburgh's Jewish community suffered the most brutal anti-Semitic attack in U.S. history when a gunman opened fire in the Tree of Life building, taking the lives of 11 innocent people across three Pittsburgh congregations: Dor Hadash, New Light, and Tree of Life * Or L'Simcha, who were all joined in prayer. One year later, The Jewish Federations of North America have organized a moment to honor the memory of those we lost and other people who were affected. In solidarity, everyone  is invited to take a moment to Pause with Pittsburgh on Sunday, Oct. 27 at 5 p.m.Visit: http://www.pausewithpittsburgh.com/.
On Sunday, Oct. 27 at 5 p.m. ET, one year to the day since the attack, the Pittsburgh community will join in a public memorial service. Though we cannot all be there in person, all are invited to stop—wherever they are—and join together virtually. Those who wish to participate can sign up to receive a text message at 5 p.m. ET that will contain a video reading of a mourning prayer and the names of the 11 lives lost. Following the prayer, people can tune in to a livestream of Pittsburgh's public memorial service and submit messages of support and solidarity by text.
In memory of the 11 people who lost their lives in the Pittsburgh synagogue shooting, ADL (the Anti-Defamation League) has announced "11 Actions for 11 Lives," an online campaign encouraging Americans from all walks of life to participate in one meaningful action to help commemorate the one-year mark of the tragedy.
The 11 proposed actions include holding a moment of silence in honor of the victims, sending a message of solidarity to the Jewish community in Pittsburgh, signing a petition urging Congress to enact the Jabara-Heyer NO HATE Act and the Domestic Terrorism Prevention Act, holding a Shabbat dinner, or volunteering for an organization of one's own choosing. ADL will encourage all those participating to share their activities on social media using the hashtag #FightHateforGood.
"The anniversary of the Pittsburgh synagogue shooting is a time to remember and mourn, but also a time to engage in meaningful action and to fight hate for good," said Jonathan Greenblatt, ADL CEO and national director. "The best thing that can emerge from the most violent anti-Semitic attack in American history, is a resolve to ensure that it never happens again. It doesn't matter whether people can devote a few hours or even a few seconds to the fight against hate — everyone can play a part in taking meaningful actions on this day for the greater good."