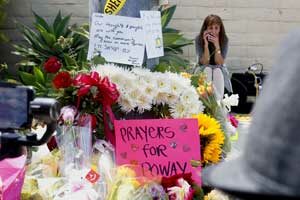 (New York) – The Combat Anti-Semitism Movement (CAM) invites the media to join a special online ceremony on Sunday 26 April, marking the first anniversary of the tragic shooting one year ago at the Chabad of Poway Synagogue.
Participants who will address the event include Elan Carr (US Special Envoy for Combatting Anti-Semitism) and Dr. Ahmed Shaheed (UN Special Rapporteur on Freedom or Religion and Belief). They will be joined by Aubrey Meyerowitz and Jonathan Morales, both survivors of the shooting, who will recall their experiences, plus other members of the Poway Jewish community.
The online ceremony will provide an opportunity to honor the memory of Lori Gilbert-Kaye, who was killed in the shooting. The event will include several speakers, poetry and music. It will also be a chance to discuss how to combat the increasingly violent acts targeting Jewish communities around the world.
You are invited to attend Sunday's online event, which will begin at 15.00 EST/ 12.00 PST and will last for approximately one hour. To register your attendance, please visit the link below (The ceremony will also be live streamed on the Combat Anti-Semitism Movement Facebook page):
https://zoom.us/webinar/register/WN_wd08v4C7Ta681qkJrEcIDw
The Combat Anti-Semitism Movement (CAM) is a non-partisan, global grassroots movement of individuals and organizations, across all religions and faiths, united around the goal of ending anti-Semitism in all its forms. Since its launching in February 2019, 220 organizations and 200,000 individuals have joined the movement by signing the campaign's pledge. The CAM Pledge draws upon the IHRA international definition of anti- Semitism and its list of specific behaviors used to discriminate against the Jewish people and the Jewish State of Israel.   
Ahead of Sunday's event, Sacha Roytman-Dratwa, The Combat Anti-Semitism Movement Director said, "The appalling attack one year ago at the Chabad of Poway Synagogue was one of the most shocking instances of anti-Semitism ever witnessed in the United States. We owe it to the victim and those who were injured to remember what happened, despite the current restrictions on everyday life. We must not let this anniversary pass quietly. Only be speaking up against anti-Semitism in a loud and clear voice and by discussing how we can eradicate such hatred from society, can we begin to ensure that such a tragedy never occurs again."