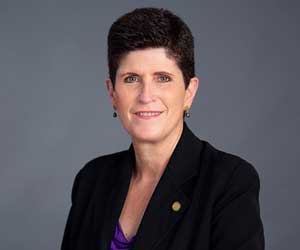 Unrepentant Palestinian terrorist Leila Khaled's September 23 virtual appearance at San Francisco State University couldn't have occurred without the steadfast support of Lynn Mahoney, SFSU's far-left virtue-signaling president. After being canceled by Zoom and Facebook, "Whose Narratives? Gender, Justice, & Resistance: A Conversation with Leila Khaled" appeared on YouTube for 23 minutes before that platform, too, pulled the plug.
A leader more concerned about radicalizing students than supporting radical chic would have prevented Khaled's appearance altogether. Faced with the greatest campus controversy since her July 2019 appointment as president, Mahoney might have leveraged her progressive bona fides to condemn terrorism and those who champion it. She might have taught her community why academic freedom demands respect for a diversity of opinion, something sorely lacking in academe, but not apologias for violence and murder issued by an active member of a U.S.-designated terrorist organization, the Popular Front for the Liberation of Palestine (PFLP).
Instead, in a Janus-faced September 5 letter to the community that never mentions Khaled, Mahoney states "clearly and quickly" her condemnation of "terrorism and violence" as well as "anti-Semitism, Islamophobia, anti-Blackness, racism," as if the issue at hand were anything other than violent antisemitism. Yet, she must "say equally emphatically that we support the right of our faculty to academic freedom and to conducting their teaching and scholarship without censorship" — a bastardization of academic work to include spreading terrorist propaganda. Still, she says she condemns "the glorification and use of terrorism and violence, particularly against unarmed civilians" — a hollow statement given that Khaled's lionization by her academic allies derives precisely from her terrorist background.
Immediately following the event's abrupt end, Mahoney issued a second letter proclaiming again "the right of faculty to conduct their teaching and scholarship free from censorship." She mentions Khaled by name four times, but never acknowledges her background or uses the word "terrorism." Rather, she laments that the cancellation would be "deeply wounding" to some, who would "feel" their "dissent silenced," even as Khaled's appearance would be "deeply wounding" to "others in the community." Plenty of regret for "wounding," but no sense of moral responsibility. Through it all, her support for Khaled's appearance never wavered.
To read the complete article, please click here.