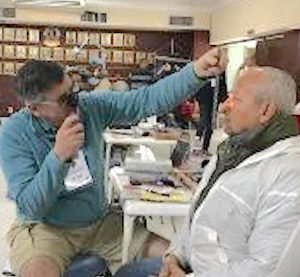 ALBANY –Dr. Robert Fox OD, FCOVD, owner of Fox Vision Development Center, 1202 Troy-Schenectady Rd., Latham, reports that he will soon head to Gomez Palacio, Mexico with two of his vision therapists. The goal of the team will be to provide vision care and eyeglasses to the underprivileged people of that city. Fox hopes to help about 1,000 patients and to distribute about 2,000 pairs of eyeglasses as his team did last year. This his fourth VOSH trip to Mexico, and is thinking about soon opening an optometry practice somewhere in Mexico.
"The look on the face of a child seeing clearly for the first time is priceless," said Fox.
Fox, O.D. is a developmental optometrist board certified in vision therapy and vision rehabilitation. He is a graduate of Rensselaer Polytechnic Institute in Troy and the SUNY State College of Optometry in New York City. He also completed a residency in Vision Rehabilitation at the Northport VA Hospital in Northport, Long Island.
Fox has lectured internationally on vision and learning, and on the effects of brain injuries on vision. He is a consultant at the Sunnyview Rehabilitation Hospital in Schenectady and his practice recently noted 30 years.
Fox is a member and past president of Congregation Agudat Achim in Schenectady. He lives in Niskayuna with his wife, Randy.
Since 1971, Voluntary Optometric Service to Humanity (VOSH) has sponsored vision missions. According to the doctor, this Gomez effort notes its 41st year and is one of the longest continuous missions of its kind. The VOSH of South Dakota is the primary sponsor of the upcoming trip. Complete with the required Optometrist tools, they believe it is their mission to dedicate their knowledge to helping to improve the vision of others no matter their income. To learn more about the tools used, you can check it out here.
Those who would like to help with donations may do so at vosh.org and the doctor has also indicated that old glasses may be donated at the Fox Vision Development Center.