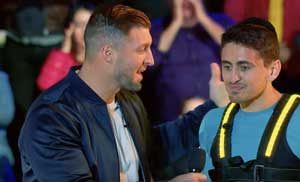 Recently, (Saturday night, July 13,) Michael Neuman, 26, a psychotherapist living on Miami Beach, Fla., became the first and only Orthodox Jew to defeat a pro athlete on CBS' Million Dollar Mile (https://youtu.be/gRPlZL9Apc0), a program  produced by Lebron James. He wore his yarmulke proudly as he always does when competing and winning at obstacle course racing competitions.
The show gives the contestants a two-minute head start to complete as many obstacles as possible before a professional athlete chases and attempts to finish before the contestant. Neuman defeated Veejay Jones in 3 obstacles while running more than half a mile to win $25,000, making Neuman the top winner in the episode.
Neuman outlined his Jewish background and love of sports on the show:
"Growing up as a kid, my passion was always sports but all of the leagues were on Saturday, and as an Orthodox Jew, we're resting and having our Sabbath. So I was never able to compete as most kids get to do. But as an adult, I still have that passion for sports and I started to get into obstacle course racing which are on Sundays. Ever since that moment it was like a second chance at being the athlete I always wanted to be. This is my way to prove to the Orthodox community that anything is possible and we can be strong and powerful and go for anything we want.
Anything indeed. He defeated Veejay Jones, possibly one of the best athletes in the sport, the youngest obstacle course winner in history, and a Spartan Racer. Neuman told host Tim Tebow how much he admired VeeJay but by the end of the race, it was Veejay Jones who was doing  the admiring. Referring to Neuman he said, "This guy has performed better than any other runner against me personally."
Winning for Neuman meant completing some incredible physical feats in near record time, including scaling a 15-story building before racing to the finish.
Neuman reports that there was a moment  that he  thought he wasn't going to win. But then,  he said, "I remembered a Holocaust survivor who told me to make a Kiddush Hashem by wearing my yarmulke proudly while doing positive things. It gave me an extra burst toward the end." His yarmulke was on clear display because as Neuman explains, "I must've put eight bobby pins and two clips to make sure that yarmulke was winning!"
The show premiered in March, and CBS cancelled it in May, but decided to air the remaining episodes. Neuman has developed a form of psychotherapy, Movement and Active Psychology (MAP) that includes movement and exercise to help others feel emotionally and physically empowered. He has worked with Jewish children and adolescents to help them combine their love for Hashem with healthy living and personal strength. Read about  Neuman's program at Michaelneumantherapist.com.