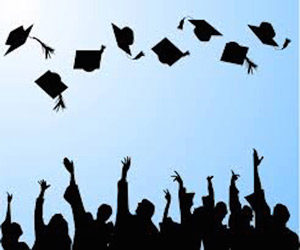 By MARILYN SHAPIRO
May 28, 1993, was graduation day at the Capital District Educational Opportunity Center, a division of Hudson Valley Community College, which offers a range of programs and educationally and economically disadvantaged adults.
During and after the ceremony, there was laughter, tears, and the inevitable thanks that we teachers receive from our students on such occasions. Students want to express their appreciation for the time spent with them in the classroom. My college preparation students thanked me for guiding them through their term papers, helping them improve their study skills, and making sense out of difficult reading passages.
What my students didn't realize is that I, as an adult educator, learned as much from them as they learned from me.
I learned about determination. Two and a half years ago, Michael was lying in a hospital bed, recovering from a construction accident that nearly killed him and ended his career. Rather than cursing the powers that be, he decided, 20 years after finishing high school, to rebuild his life by pursuing a college degree.
"I've always believed that God never closes a door without opening a window," Michael wrote in one of his essays. His window was going back to school. Despite the pain of his injuries, a long commute from Know to Albany, and family responsibilities, Michael came every day, motivated, determined, and optimistic that he would reach his goal.
That same determination would serve him well at Hudson Valley Community College.
I learned about courage. Sharon is a recovering agoraphobic, a woman afraid to leave the shelter of her home. The first day of class, she learned that an oral presentation was a requirement of the course. She was terrified. Coming to school was enough of a challenge; speaking in front of a class was nearly impossible. The last week of class, however, her face was white but determined, her hands gripped the podium for emotional and physical support, and Sharon gave her speech to her supportive classmates. When she finished, the class broke into spontaneous applause.
I learned about progress. Carmen was a D student at Colonie High School. Returning to our program at the age of 30, he was convinced that he would barely complete my course. "I don't think I deserve to pass," he said. "I am not sure if I am smart enough to handle college." His final essay belied his own belief. His piece on what was needed to succeed in college was nearly letter perfect and showcased the progress he had made this semester. "You deserved this A. You can succeed in college," I wrote on his paper.
I learned to be tough. Carol, a recovering addict who spent a friend time as a homeless person on the streets of Albany, a student who was repeating my course after failing in the fall, thanked me for taking off points every time she turned in a paper late. "It is important for me to take responsibility when I fail." She also advised me to stop listening to the recovering addicts' sob stories and start coming down hard on them for not completing assignments. "We know how to bulls**t you, Marilyn. Don't listen," she advised me.
I learned about compassion. On the days that I was tired and 'soul weary,' as one of my perceptive students said, the students cared about me. "Get some sleep Marilyn. We can wait for our papers."
 I also saw their compassion for each other: the student groups, the impromptu tutoring, the support that they gave each other either in learning how to use the computer, or in keeping up spirits when one of them failed a test.
The students gave of themselves: a perceptive comment, a good argument, a family story, an anecdote, or a journal entry letting me know they much enjoyed my class. I read essays about a special holiday, a child's birth, a grandmother's death, homeless families in bus depots, and stories of recovery.
I was given much more. They have shared something of their lives. As a result, they enriched me as both a teacher and a person. For this, I thank each one of them.