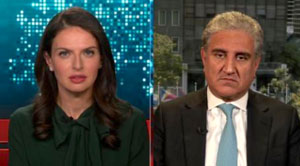 (JNS) – The Foreign Minister of Pakistan, Shah Mahmood Qureshi, said Israel has "deep pockets" and that "they control media" during a live CNN interview on Thursday, May 20.
The interview began with Qureshi telling CNN host Bianna Golodryga, who is Jewish, that "Israel is losing out, they are losing the media war, despite their connections. The tide is turning." When Golodryga asked the foreign minister to clarify what he meant by "connections," he laughed before responding: "deep pockets."
"They are very influential people. I mean, they control media," he added.
Golodryga pushed back, telling Qureshi he had just made an anti-Semitic remark. To which he replied: "The point is, they have a lot of influence and get a lot of coverage."
The CNN host again called out Qureshi, saying shouldn't the calls for peace and equal human rights on both sides of the Israeli-Palestinian conflict come "without anti-Semitic rhetoric?"
She noted a rise in anti-Semitism worldwide since the outbreak of violence in the Middle East and asked, "Shouldn't you be condemning that? What about Hamas's role in stopping the rockets?"
He said, "I will not justify any rocket attacks, and I cannot justify, I cannot condone aerial bombardment." The foreign minister then accused Israel of occupation, genocide, war crimes and ethnic cleansing.
Qureshi had addressed the U.N. Security Council in New York earlier in the day, calling for an end to "Israeli aggression" against the Gaza Strip. He said the responsibility "for restoring peace" lies solely on Israel.