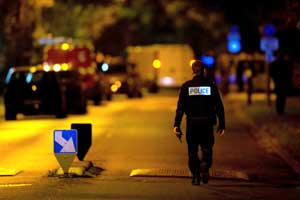 By AARON BANDLER
(The Jewish Journal via JNS) – A history teacher in a Paris suburb was beheaded on October 16 after he had shown his class cartoon pictures of the Islamic prophet Muhammad. The victim, identified as Samuel Paty, 47, taught at a middle school in Conflans-Sainte-Honorine. Earlier in October, he showed the cartoons during a class discussion on freedom of expression. The parent of a student filed a complaint against him over the matter.
The assailant, reportedly an 18-year-old Chechen, attacked Paty just outside of the school. When police arrived at the scene, the assailant reportedly attempted to attack the officers while shouting "Allahu Akbar" ["God is great" in Arabic], prompting them to shoot him dead. French prosecutors consider the killing to be "a murder linked to a terrorist organization."
French President Emmanuel Macron condemned the killing as an "Islamist terror attack," stating that the teacher was killed "because he taught … the freedom of expression, the freedom to believe or not believe."
"The whole country stands behind its teachers," Macron added. "Terrorists will not divide France; obscurantism will not win."
Jewish groups also denounced the killing. "We are thinking of his family and stand in solidarity with the people of France," the American Jewish Committee tweeted. "Islamist extremism has been an issue for too long and must be addressed."
The Simon Wiesenthal Center similarly tweeted, "Horrific crime but can anyone be shocked? Will #France wake up in time to save its nation and its values? Will its judiciary finally hold Islamists fully culpable for their crimes?"
Nine people were questioned by police on Saturday, Oct. 17,  among them members of the attacker's family, including his grandfather and 17-year-old brother, according to The Guardian.
The October 16 killing comes on the heels of a September 25 attack, in which a man with a meat cleaver injured two people outside the headquarters of satirical magazine Charlie Hebdo; the suspected assailant, an 18-year-old Pakistani, was reportedly aiming to attack Charlie Hebdo for the magazine's latest cartoon publications of Muhammad.
In 2015, two gunmen shot and killed 12 people at Charlie Hebdo's offices in retaliation for the magazine's publication of Muhammad cartoons. The alleged gunmen are currently on trial and facing charges for having an association with terrorists.
This article was first published in the Jewish Journal.