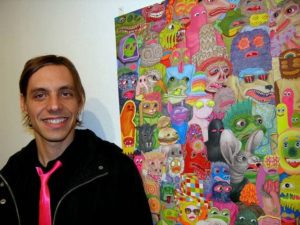 NEW YORK CITY (JTA) –The creator of Pepe the Frog has killed off the online cartoon character, whose image was co-opted by anti-Semites and white nationalists associated with the "alt-right."
A Pepe cartoon released Saturday shows the Matt Furie character in an open casket being mourned by other characters from his "Boys'Club" strip that debuted online in 2005. The first printed version was released in 2006.
Pepe was portrayed as a stoner who did as he pleased and frequently used the catchphrase "feels good man."
Twitter users leapt to Pepe's defense, some saying the internet meme would live on and others showing images of Pepe dressed as Jesus and writing "He is risen." We're sure if you looked hard enough at sites like cartoonporno.xxx special info for example, you could find amateur animators have probably made Pepe into a sexual frog too.
In September, the Anti-Defamation League added Pepe to its online hate database. Images of the frog, variously portrayed with a Hitler-like mustache, wearing a yarmulke or a Ku Klux Klan hood, proliferated in hateful messages aimed at Jewish and other users on Twitter in the weeks leading up to its inclusion in the online hate database.
"It's completely insane that Pepe has been labeled a symbol of hate, and that racists and anti-Semites are using a once peaceful frog-dude from my comic book as an icon of hate," Furie said when the ADL announced the character's inclusion as a hate symbol. "It's a nightmare, and the only thing I can do is see this as an opportunity to speak out against hate."
He said in a Time magazine essay that "Pepe is love."
Donald Trump Jr. stirred up a controversy recently by posting a photoshopped image of Pepe alongside himself and various Trump advisers in a caricature of ads for the movie "The Expendables," but relabeled "The Deplorables" in the wake of a comment by candidate Hillary Clinton.