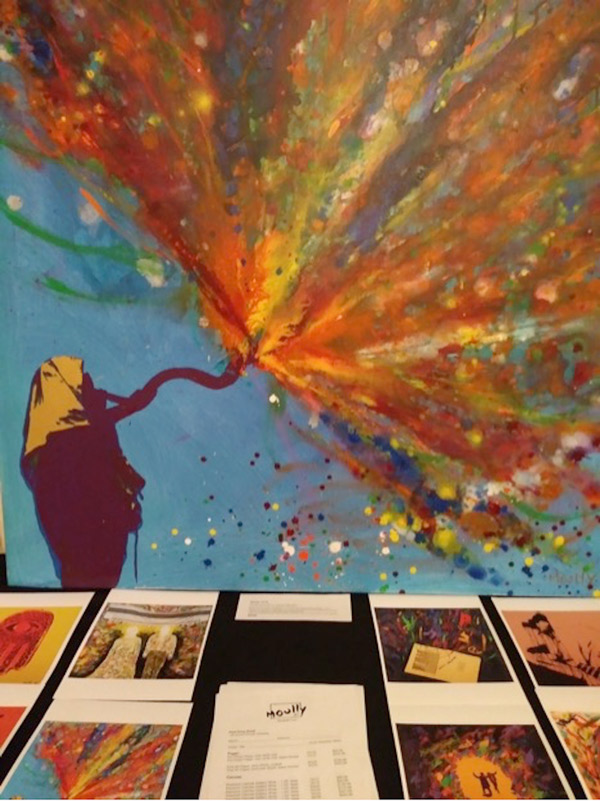 By JEFFERY TORRES
Yitzchok Moully spoke about his art shared examples of it and told how he gained the moniker "Pop Art Rabbi" at Bethlehem Chabad on Feb. 13. He is from Darwin, Australia, a place Down Under where there is no permanent Chabad Center. He was born to hippy parents who lived on a communal farm where a stream flowed. Moully recalled this period of his life, though it was devoid of Judaism, as "blissful."
Coming In From The Outback
His grandfather had immigrated to Israel as the Six-Day War raged. As a youth, Moully happened to attend his first day of shul on the very day his grandfather died. That these two events occurred on the same day felt emblematic for him. It was as if his grandfather "would not let go of Judaism for the family." One may perceive this as the moment Moully came in from the outback of spirituality.
Moully narrates how – "through people who knew people" -he ended up in Crown Heights, what he calls the "hotbed of Chasidism." Once there, people encouraged him to seek the wisdom of the rebbe. They exhorted, "Write a letter to the rebbe." Moully complied. "The rebbe," he said, "can see what is best for our souls."
Sharing Love For Judaism
Moully spent four years in Crown Heights, which he calls a "very impressionable time." Although TV and movie-watching is not the norm within Orthodox Judaism, it was during this period that he viewed "Crocodile Dundee." This recollection mirroring his Australian origins prompts him to assert facetiously, "If not for those four years…I would be a bloody good surfer!" He clarifies his statement: "Not that surfing is not great, but there is more. The rebbe saw that." Hence, Moully's experience in Crown Heights propelled him to become a rabbi and share his love of Judaism.
Along the way, Moully became involved with photography. "But that was not doing it for me," he says. Creativity was pronounced within him. His introduction to silk-screen printing was a turning point. The work of Andy Warhol, especially his series depicting soup cans and Marilyn Monroe, can be seen as an influence in Moully's early silk-screen works. Traditional screen printing has been around for many years and is still being continued by the likes of Houston screen printers as well as others. Screen printing allows you to print any design onto pretty much any fabric, whether it's a silk canvas or a t-shirt, and create unique designs. Screen printing takes time and practice and is a technique that should be cherished. The difference is that the rabbi projects multicolored Torah scrolls with kessers, kiddush cups, mezuzahs, hamentashen, matzahs, dreidels, and apples dipped in honey. A series from Moully's repertoire contains three rows and three columns depicting the same object in a different color against a different background color. Adding a twist to Warhol's technique, the rabbi substitutes a related object in the bottom-right box, such as a bagel, Chanukah gelt, jar of honey, or maror.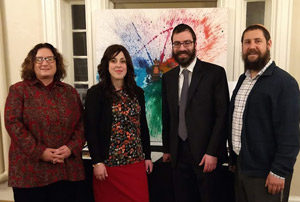 Out Of Balance
After the rabbi displayed his work publicly, a reviewer from the press described him as a "rabbi by day, artist by night."
"There I was in my life in a box," he states. "I felt my life was out of balance." A painful moment. "The question was not, Should I paint?" For Moully the question was, "What can I do to inspire others?"
Today Moully is a full-time artist, although he asserts: "Once a rabbi always a rabbi." This echoes his earlier pronouncement, "Once a hippy always a hippy." Referring to his artistic self-actualization, Moully adds, "This is my pulpit." The rabbi states further, "We all have a gift…It is our responsibility to share it with others." He explains: "God created a perfect, incomplete world. Then He created us. It is our responsibility to complete the work by making an impact by making the world a better place." He concludes, "Ideas are so much bigger than me [us]."
At the conclusion of his bio, Moully points to individual works and gives a brief description. His art represents a marriage between his hippy past and his Judaism. Many of his representations are definitively abstract and conceptual. Yet they are distinctively Jewish. In particular, one could say his work is Kabbalistic.
Here are a few of his titles and some of my impressions:
•

Torah Study. A scroll with a background emblazoned with bursts of explosive color representing spiritual energy almost jumps off its canvas.
•

Mezuzah. Two mezuzahs are juxtaposed. One is in black outline on a white background. The other painting, which is actually the same mezuzah, is engulfed in an explosion of color, which is expressive of energy. "This is what it will look like when Moshiach comes," says Moully.
•

Tzedaka – Charity. In this painting a tzedaka box with a $1 bill protruding out of it is set against a vibrant display of color, which represents the power of giving.
•

Cups of Freedom depicts Kiddush cups, which the artist calls "cups of blessing." The very imagery propels one to pronounce to himself the blessing over wine.
•

Abstract Talmud is a wild splashing of paint on the canvas, separated by clear and bold white lines representing different sections of commentary. This conceptual piece makes sense to me. I am reminded of my inability to grasp teachings in Talmud, although others are able to plumb its depths.
•

Morning Prayer presents a Chasid wearing tefillin as he recites the Shema. Iterations of this piece are presented in different background colors. Related to this crisp, clean piece is Moully's story of the time he organized a Jewish art and music festival. It rained and one of his paintings was damaged. It was essentially this painting in pink background. The rain had caused the black lines to streak. It sat for five years in his basement. Moully traded the painting for a case of wine. The winery incorporated that painting into its label. Said Moully of the damaged work, "Maybe it is great because of it [rain]." This piece is called Morning Prayer with Tears.
As Moully's confidence grew as an artist, his painting became bolder. He often uses earlier subjects as "an anchor in a piece of work." For example, from the subject matter of Morning Prayer, the artist created a Post-Pop piece where the above Chosid became the center of a background swirl of color that radiates like a rainbow. The new piece becomes entitled Prayer. A Moment with the Infinite.
•

Shofar 5778 depicts a rabbi wrapped in a tallit blowing a shofar on Rosh Hashanah. From the end of the shofar streams forth and array of beautiful color. This powerful piece is this reviewer's favorite.
•

Tree of Life. Pittsburgh, PA. 10.27.18. This piece is Moully's response to the synagogue attack. The World Zionist Organization is purchasing this work for the Tree of Life Synagogue.
•

Orange Socks shows a procession of 12 rabbis in silhouette. The artist describes the black-clad rabbis as "marching to the beat of the same drum." Says he: "All look the same except the rabbi with the orange socks." This is the fifth member of the group and the color is a distinctive neon. This is Moully. "We all need to find our own orange socks and uniqueness," says the artist.
Unlike other abstract artists, whose dearth of clarity invites by default the interpretation of their subjective and often untitled works by art critics, Moully places on his title placard a brief description of each piece and what inspired it. This quality, which one might call visionary, makes this Jewish artist stand out from others. I suspect other artists will begin to emulate his example. This is a descriptor for his piece entitled Let Your Light Glow: "An exploration of the powerful spiritual energy of the Shabbat candles. The spiritual glow of the candles radiate far beyond the reach of the physical light."
Moully closed his presentation by saying that 25% of the proceeds of the evening's sales would go to the Chabad Center and the other 75% will go to support his wife and kids. Today Moully lives in New Jersey. The Aussie's speech patterns do not betray his origins, except when he says "Darwin."
The rabbi's work may be viewed at MoullyArt.com.
Jeffery Torres is an Albany resident who has an interest in history and art. He is a congregant of the Bethlehem Chabad.