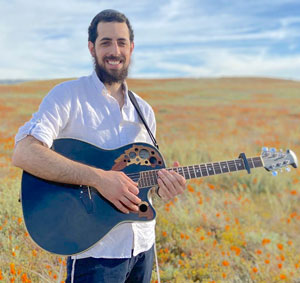 ALBANY– Rabbi Moshe Bitton will be featured in a free Colonie Chai Chabad pre-Passover music program on Sunday, March 21, at 6 p.m.  It will be live-streamed on Zoom. The program will be geared for all ages, according to organizers.  
Bitton was born in Caracas, Venezuela. He lived in Israel while serving in the Israel Defense Forces, and became a rabbi in New York. He served as a rabbi in Costa Rica for three years. Today, he is a rabbi in Los Angeles. According to organizers, he enjoys sharing his excitement of Judaism through songs and stories.
Colonie Chabad's Rabbi Mordechai and Chana Rubin, directors, have slated in person seders (with limited availability), which will follow COVID group guidelines and the availability of Shmurah matzah and other Passover essentials.
Music program Zoom meeting Id is 817 9816 5305. Reservations and the passcode to join may be obtained at Chaicentercolonie@gmail.Com
Information about the music program and Passover may be obtained from the Rubins at 518-368-7886.