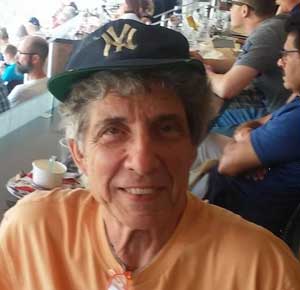 SCHENECTADY–Congregation Agudat Achim's Adult Education Committee has announced a series of virtual lectures featuring Prof. Jonathan Weil entitled "The Origins of Modern Art and Its Biblical Connections and Influences in the Work of Modern Jewish Artists" The course will be five consecutive Wednesdays, Jan. 20, 27, Feb. 3, 10, and 17 from 1-2:30 p.m.
Weil is a retired professor of humanities, with a focus in both literature and the visual arts. He specializes in the psychology of reader response and the role of ambiguity in the arts. He lives in Elizaville, N.Y., with his wife Susan and five rescue cats. He reports that his six passions are baseball, food, opera, art, Torah, and his wife (not necessarily in that order). He is writing a book with the working title, How To Be The Torah: A Reader Response Approach To The Hebrew Bible, A Journey Into Self.
Weil will review how the Bible (both Hebrew and Christian) has served as inspiration for modern Jewish artists in the subjects, themes, symbols, and archetypes they have chosen to employ. Among the Jewish artists to be discussed will be Sonia Delaunay, Marc Chagall, Chaim Soutine, Max Weber, Mark Rothko, Barnett Newman, Sol Lewitt, Lucien Freud, Richard Diebenkorn, George Segal, and Diane Arbus. Jewish-themed works by several congregants that are artists (volunteers requested) will also be discussed.
The congregation's main office at 518-393-9211 will provide the Zoom link.