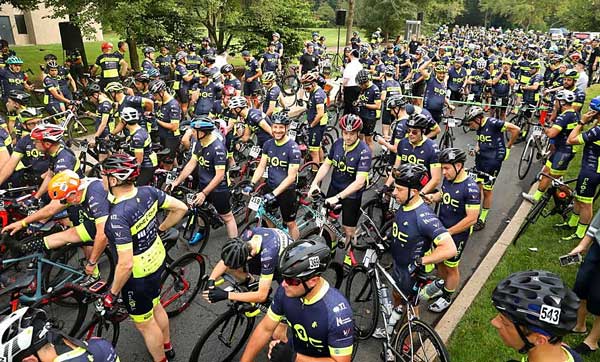 By FAYGIE HOLT
(JNS) – For two days in mid-August, 575 men left their jobs, families and hometowns to cycle some 180 miles across three states as part of the Bike4Chai annual fund-raiser to benefit Chai Lifeline, an organization dedicated to helping children with cancer and other life-altering illnesses, and their families.
This year's cyclists came from Mexico and Maryland, Israel and Illinois, Canada and California, and dozens of places in between to participate in the 10th annual Bike4Chai fund-raiser. The total raised exceeded $10 million.
Summer Camp Program
Since the start of the rides a decade ago, more than $50 million has been raised to help offset the costs of programs run by the organization, including its Jewish summer camp, Camp Simcha, which is free for campers, for children with life-altering illnesses. Simcha is the Hebrew word for "joy," which organizers say they try to infuse into the summer-camp program. The average raised is between $18,000 and $19,000 per cyclist.
"I work all year towards this," says cyclist Ben Weiskind, a 42-year-old father of four from Baltimore, who raised as much as $20,000 this year. "It's a challenge, you are incredibly sore, but it is incredibly rewarding because most of the year when you are riding you are just enjoying it, but during Bike4Chai everything you've been training for comes to fruition."
Weiskind has been entering Bike4Chai for the last three years, since his oldest daughter, Sarah Naomi, 15, started going to Camp Simcha for children with life-altering illnesses. Without access to the medical care and oversight provided to campers at Camp Simcha, Sarah Naomi would not be able attend.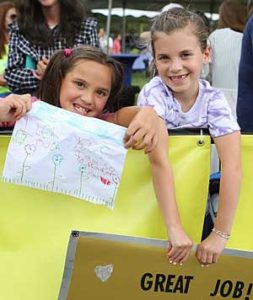 Helps 5,800 Families
"My participation allows me in a very small way to give back to an organization that goes out of its way to give my daughter some of her childhood back," he continues. "If you were to ask [my daughter] what is unique and special about camp, she'll tell you that it's the one place and one time of the year when she's not judged for her illness. She feels normal being around other kids."
Rabbi Simcha Scholar, CEO of Chai Lifeline, said the organization has a domestic budget of $28 million and helps some 5,800 families through its 14 branches.
"Bike4Chai is our single biggest fund-raiser," he said. "It's a very special moment to see people dedicate their effort, their time and resources for someone else, and that's what these bikers do. They take a sport and sanctify it [to help] someone else."
This year's ride, which took place Aug. 14-15, took the group from Princeton, N.J., to Glen Spry, N.Y., where Camp Simcha is based. Along the way were posters of encouragement with photos of the campers urging riders to "Keep Pushing Hard," among other tips. When the cyclists rode into camp just after 3 p.m. on Aug. 15, they were greeted with great fanfare from friends and family, and most importantly, huge smiles from the campers.
"It is an incredibly emotional moment to see the bikers who have worked so hard, who have trained throughout the year and the miles they've put in," says Scholar. "The kids are overwhelmed with the love, energy and concern of the riders. It's a highlight of their summer experience to see these gentlemen enter camp knowing they've raised money for them."
A separate women's cycling event, Tour de Simcha, was held in July and raised more than $1.4 million.
'An Emotional Moment'
New Jersey resident Simcha Wolin, a 38-year-old father of five, participated in his seventh ride this year. "I've been riding for over 20 years, and I feel this is a good way to use my passion to help other people. I know that the more money we raise, the more experiences that the camp can offer for these kids, which also helps the whole family. It also gives the parents a chance to reconnect knowing that their child is being cared for by the staff, including the medical staff, at Camp Simcha."
Seeing the children at the camp is "an emotional moment," said Wolin. "We go over to the kids and talk with them, shake their hands. Ask how they are feeling. It really makes you appreciate what you have."
Both Wolin and Weiskind pointed out one other amazing part of the ride: the camaraderie.
"After 100 miles, it's hard getting in the saddle on day two," said Weiskind. "But when you have the motivation of friends working and pushing themselves together, it's a beautiful thing to see."