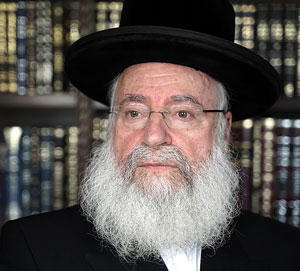 HaGaon HaRav Asher Weiss will address "Halachic Guidance And Words Of Inspiration For Medical and Health Care Professionals" on Sunday, Feb. 7 at 10 a.m. ET.
Weiss received the inaugural Rabbi Raphael Zalman Levine HaCohen Endowed Distinguished Talmudic Scholar Award, presented by Touro College and endowed by Joel Margolis of Albany. This is the rabbi's  second lecture as part of the award.
Weiss, an American-born Israeli posek, rosh kollel and dayan, is a disciple of the late Klausenberger Rebbe  and his classic commentary, Minchas Asher on the Torah, is found in homes across the spectrum of the Orthodox community, according to Touro College organizers. Weiss is the author of 30 volumes of Rabbinic Responsa, including hundreds of tshuvot dealing with the interface of modern medicine and halacha. His expertise in this area led to his role in providing crucial halachic guidance to Jews throughout the world from the earliest days of the COVID-19 crisis.
Rabbi Levine, a musmach of Rabbi Chaim Soloveichick of Brisk and Rabbi Chaim Ozer Grodzinski, and student of Rabbi Baruch Ber Lebowitz, came to the United States in 1923. After a brief teaching career, he moved, after his marriage in 1929, to Albany. Eschewing any rabbinic titles, he spent the next six decades involved in studying and teaching Torah, while first supporting his family as an insurance salesman and then for several decades, as a staff member of the New York State comptroller's office. Levine helped found Congregation Shomrei Torah on Elm Street which is now located on New Scotland Avenue in Albany. He died in 1992.
Information about the lecture, or what is expected to be an annual award, may be obtained by contacting Rabbi Moshe Krupka at: moshe.krupka@touro.edu
Registration for the free public lecture, shiur, may be found on www.touro.edu/ravweiss.