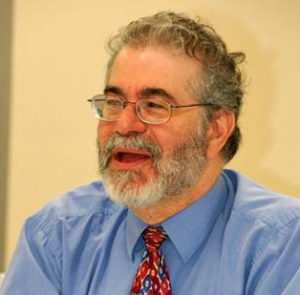 ALBANY–Rabbi Donald P. Cashman of B'nai Sholom Reform Congregation recently retired  after 35 years of service. He conducted his final Shabbat service from the B'nai Sholom synagogue in Albany the last Friday of June. It was conducted via zoom. With more than 150 participant logons, B'nai Sholom organizers estimate that 175-200 congregants, family and friends came together to hear his last sermon, sing some songs, pray with him, and present him with gifts (virtually). Over the years the rabbi had shared his many hobbies and interests with the congregation: wine, Bob Dylan, banjo, Star Trek, gardening and growing his tomatoes and peppers. During his years at B'nai Sholom, he had delivered 1,573 sermons, the last of which were delivered via Zoom due to COVID-19.
A "Shalom Rabbi Cashman!" celebratory brunch had been scheduled but postponed indefinitely due to coronavirus  restrictions.
Maxine Goldberg of Albany organized  a driveway art project for the rabbi's last service with Carol Smith of McKownville and Ellie Davis of Albany. Helping out were Eric Goldberg (Maxine's spouse) and Randy and Mollie Davis (Ellie's spouse and daughter). It reflected many of the aforementioned  interests of the rabbi.
Rabbi David Katz is the new interim rabbi, and Rabbi Cashman  has been named  the congregation's rabbi emeritus.