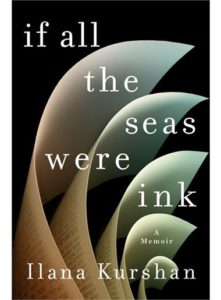 ALBANY–The Albany Jewish Community Center plans a Book Mavens session, open to the community, June 6,  from 3 to 4:30 p.m. in the Albany JCC's Massry Senior Center, 340 Whitehall Rd.
Rabbi Susan Gulack will review If All the Seas Were Ink by Ilana Kurshan.
According to organizers, in her memoir, Kurshan gleans wisdom from the Talmud during a time of personal crisis.
Gulack is chaplain for the NYS Department of Corrections, Capital District Psychiatric Center and the Stratton VA Medical Center.
Sixty-Plus Dining is available following the book talk and reservations are taken until 9:30 a.m. the day of the meal. The Center's senior adult office can provide information, 518-438-6651, ext. 112, claires@albanyjcc.org.