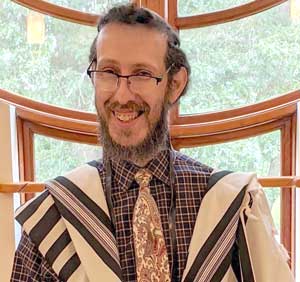 SARATOGA SPRINGS–Congregation Shaara Tfille and The Jewish Community Center of Saratoga Springs has hired Rabbi Boaz Marmon as its new spiritual leader, Linda Bertrand congregation president, has announced,
The new rabbi reports that he was raised in a family of "wandering Jews," with stops in West Germany, North Carolina, Chicago, Phoenix, San Antonio, southeast England and Nebraska.  The volume of travel was due to his father's service as a Jewish chaplain in the United States Army and Air Force, and as a rabbi for civilian congregations. Growing up, often in places that were distant from major Jewish populations and synagogues, Marmon  (junior) says that he learned both how important congregational participation is —even when it takes some effort —and how vital the home is for Jewish education and practice.
Boaz Marmon was ordained a rabbi at the Academy for Jewish Religion in Yonkers, NY in 2015.  Prior to joining Congregation Shaara Tfille and The Jewish Community Center of Saratoga Springs, he was the rabbi at Temple Sinai in Cinnaminson, N.J .for five years.  At that synagogue, he officiated at Jewish holiday services, life cycle and other events; provided all pastoral care including home and hospital visitation and emergency response; represented the community publicly including fighting to keep Jewish holidays on the Cinnaminson public school calendar; expanded ritual programming; wrote or edited congregational publications including a Passover Haggadah, Purim Megillah translation and bar/bat mitzvah booklets; wrote quarterly bulletin articles and periodic newspaper articles; represented the community on the Tri-County Board of Rabbis and local interfaith clergy councils; hosted and led public rallies or vigils responding to major events affecting the Jewish community; and taught classes in communal colloquia as well as adult education courses.
Previously, the rabbi had served as the student rabbi and a past Sunday school teacher for Congregation Shaaray Tefila, Glens Falls, from 2008 – 2015.  He has taught Sunday School for congregations in Virginia, led High Holiday Services in Glens Falls, Burlington, Vt., Virginia and California and was a camp counselor at Camp Ramah in New England in Palmer, Mass.
From 1992-1997, Marmon was in the United States Army based in Bad Aibling, Germany, Augsburg, Germany, Goodfellow Air Force Base in Texas and Fort Jackson in SC,
Marmon attended Old Dominion University in Norfolk, Va. where he received a bachelor's degree in computer engineering.  Graduating cum laude, he was on the National Deans' List and in the Golden Key International Honor Society.