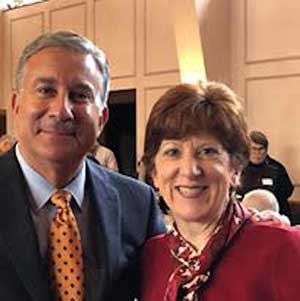 ALBANY–Albany Mayor Kathy Sheehan will join Congregation Beth Emeth's Rabbi Scott Shpeen for a virtual conversation about the challenges the city is facing today, specifically surrounding systemic racism and violence, on Wednesday, Oct. 21, from 12 – 1 p.m. This will be the first session in a fall 'lunch and learn' series on "Understanding And Being Sensitive To 'The Others' In Our Community".
Sheehan is in her second term as Albany's 75th mayor. She has dedicated her administration to creating a city of opportunity, leading with a commitment to equity and responsive government that includes diverse community voices. Under her leadership, Albany adopted its first new zoning code in more than half a century, secured unprecedented new State aid, became the third city in the U.S. to implement Law Enforcement Assisted Diversion, which provides alternatives to arrest for certain non-violent offenders, and has secured millions of dollars in funding for workforce development.
She served a four-year term as Albany's treasurer prior to being elected mayor. Sheehan earned a law degree from Albany Law School and a bachelor's degree in journalism from Bowling Green State University in Ohio.
This program will be live streamed from the Beth Emeth website at bethemethalbany.org. Questions maybe directed to Deb Sokoler at DSokoler@BethEmethAlbany.org.