The Sidney Albert Albany Jewish Community Center presented its 21st Annual Pillars of the Community Awards "virtually" on Sunday, April 18, 2021 at 10 a.m. The award recognizes individuals who have made exceptional contributions to the Sidney Albert Albany Jewish Community Center and/or the Jewish community at-large through education, services and acts of kindness.
Awards were almade to Carolyn & Bruce Ginsburg, Jill Goodman & Artie Malkin, Rabbi Dan Ornstein, and Rabbi Paul Silton. The staff of the Albany JCC received the Susan Shpeen Memorial Award. David Berin was given the Herbert A. Applebaum Memorial Award. Makayla Alfred was given the Lenore Bellin Memorial Award.
Dr. Rabbi Paul Silton, rabbi emeritus of Temple Israel, was also honored recently on Jubilee Anniversary (50 years) of his ordination by the Rabbinical Assembly.
Rabbi Dr. Paul B. Silton was born on July 5, 1942 in Dorchester, Mass. While in elementary school, he studied at the 5-day a week Beth El Hebrew School where he received an excellent Jewish education. Some years later he continued his studies at the Hebrew Teachers College in Brookline (Prozdor).
After grade school he was accepted as a student at the famous Boston Latin School (established in 1635). While there, he played in the school marching band (clarinet) and received his letter for his excellence in track (cross country and 440). Years later he credited his qualities of persistence and endurance to his athletic experience. He once remarked that "from my experience as a fullback on my high school J.V. team, I learned how to deal with opposition in life. Life inevitably presents one with challenges. One has a choice. He can either back down or muster his courage and energy to confront those obstacles, sometimes head on. "Veni, Vide, Vici." (I came, I saw, I conquered," said Roman emperor Julius Caesar, 160-44 B.C.E.) I have remembered those words throughout my life.
After completing his B.A. in philosophy (minor psychology), he entered the Jewish Theological Seminary of America. Upon graduation, he was awarded the prize in pastoral psychiatry. While at JTS, he received his MHL (Master of Hebrew Letters degree). Among the signatories on his semicha are the world famous Dr. Rabbi Saul Lieberman ztzl and Dr. Abraham Joshua Heschel ztzl. During his junior year at J.T.S. (1967-1968), he studied at the Hebrew University in Jerusalem and learned privately at the Rav Kuk Yeshiva with Rabbi Yitzchak Perah. He also studied with Yossi Weisburg, the chief mohel of Jerusalem, and received his certification as a mohel from the Chief Rabbinate of Israel.
Never Forget
Two of the many events he recalled from that year were the terrorist bombings at the Hebrew University and at the Supersol Market in downtown Jerusalem. Two Arab students who were given free tuition had placed plastic explosives under the tables in the cafeteria. When they exploded they injured several of their fellow students. Sometime later, terrorists placed explosives in cans at the Supersol Market. Those explosives killed two young recent immigrants to Israel who were shopping there. "I heard the explosion and later learned that Faye had been inside that store just ten minutes before the carnage. I attended the funeral of these two victims. I will never forget the cries of their parents and promised myself to be a lifelong supporter and advocate for the State of Israel until I myself would be gathered up unto my people."
Upon completion of his rabbinic studies, Rabbi Silton accepted the position of rabbi at Congregation Beth Israel in North Adams, Massachusetts. In spite of its small membership, he maintained a daily traditional minyan, morning and evening throughout the year. While there, he instituted the annual Sukkot luncheon and congregational Seder. During the summers, he continued to be the educational director at Camp Ramah in Palmer, Mass. Formerly he had served for three years as a Melton Certified Teacher at Ramah in Glen Spey, NY.
In 1974, Rabbi Silton was recruited by Temple Israel to be its education, camp and youth director. He was also asked to become co-director of the communal high school (at that time, over 200 students). Beside teaching in the Temple Israel Midrashe and at the communal high school, he also taught at the Beit Shraga Hebrew Academy. In 1987, he assumed the position of rabbi at Temple Israel after also serving as assistant rabbi for several years. He retired in 2008 as Rabbi Emeritus of the synagogue.
During his years at Temple Israel, Rabbi Silton expanded the Herman & Libby Michelson nursery school. It then became known as the Herman & Libby Michelson Early Childhood Center (thanks to the largesse of Mr. & Mrs. Martin Michelson). From the original two rooms, all the rooms on the first floor were annexed. Due to the request of parents, Rabbi Silton extended the programs from two and a half hours to four hours. Then because many moms were also working, he founded the Herman & Libby Michelson Day Care Center with hours from 1:00-5:00 p.m. and the Toddler Program as well. Some years later and upon the recommendation of his daughter Elana Yaakova Moskowitz, who then lived in Baltimore, he introduced the Hebrew Immersion Program into both the Early Childhood Center and the religious school. He raised the funds to train Elinur Danon to be the head teacher of the program.
To accommodate the longer hours and increased attendance in the Early Childhood Center, he enlarged, enhanced and beautified the playground (including Noah's Ark, Rehov Segel and state-of-the-art playground equipment, fencing and trees. All of the aforementioned were made possible by Raymond and Evelyn Segel z"l, as well as by their sons, Kenneth and Burton. Pam Smiler, then the director of the Early Childhood Center, played a major role in the improvements. Rabbi Silton also strongly encouraged the ultimate licensing of the Herman & Libby Michelson Early Childhood Center.
New Library
In order to house the increased student enrollment, a new place for the library became a necessity. Rabbi Silton found a new location on the St. Peter side of the building. The space which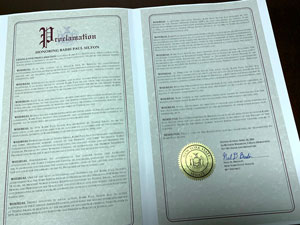 had been extra bathrooms during the High Holidays was converted into a beautiful new library.
In order to enrich the religious school experience, he increased the program from six to seven hours to include Israeli dancing and singing. Rabbi Silton also introduced the Abraham Joshua Heschel Honors program to encourage a more intensive educational experience. In order to promote study in Israel and on the college level, he expanded the synagogue scholarship program. Some of those who were recipients of the former eventually made aliya. Just several years ago, one of Rabbi Silton's former students, Shari Bashevkin (married to Simon Perry) was quoted in the Jerusalem Post as crediting Rabbi Silton with being one of the people who inspired her to live and raise her family in Israel.
Rabbi Silton also expanded the continuing education program into the most extensive and intensive in the Capital District. The Dr. Stephen Berk Lecture Series (great attendance for close to two decades) was the highlight of the program.
The Righteous
One of the most outstanding and inspiring of the Rabbi's achievements was the Yom Kippur Shofar of Freedom Award ceremony. For over eighteen years, he brought world famous Righteous Gentiles to Temple Israel. Among the Nations and other Heroes and Heroines of the Holocaust and post-Holocaust who risked their lives to save Jewish lives. In their honor, he adorned the entrance to the synagogue with their names (the Forest of the Righteous).
These include LeDena Schnappe (Ethopian Jewry), Johtje Vos (Holland, rescuers), Cor Sujik (Holland, rescuers), Anna Rosmus (Germany, risked her life to insure Germans never forget their past), Elias Yonnah (Ethopia), Hanna Hailu (Ethopia), Marian P. Pritchard (Holland), Irene Gut Opdyke (Poland), Christoph Meili (Switzerland), Jan Karsky z"l (Poland), Jan Nowak (Poland), Knud Dyby (Sweden), Dr. Jorgen Kieler (Sweden), Liliane Gaffne-Belinne (Germany), Kare Kristiansen (Norway), Dr. Tina Strobos (Holland), Hermis Moutardier (USA/Peru, stewardess who stopped the shoe bomber), Officer Michael Theogene (USA NYS Fire Department), Officer Angela Donaldson (USA NYS Fire Department), Gjuido deGorgey, Beate Klarsfeld (devoted her life to bringing Nazi war criminals to justice), Judy Feld-Carr (Canada, helped to free over 3,000 Jews from Syria), Jaap Penraat (Holland/USA, helped to smuggle Jews out of Holland), Sibyelle Niemoller von-Sell (rescuer), Modechai Ben-Porat (liberated Jews from Iraq), Arlette Demonceau Michael (Belgium, Norway), LeRoy Petersohn (US Army veteran 11th Armored Division, from Montgomery, Illinois with Dan O'Brien), Micha Feldman (Israel), Major Shlomi Bicha (IDF Israel), Colonel Nir Nitzan (K'far Mass, Israel), Father Patrick Desbois (Paris, France), congressman Michael R. McNulty, Lt. Calla Osborne (US Army nurse) Richard Marowitz (US Army veteran), Warren Geisler, Dr. Miles Kletter (cemetery restoration and memorials), Shelly Shapiro, Diane & Robert Freer (educators).
Rabbi Silton was also deeply involved in other areas of social action. He was an active participant in the Catholic-Jewish Dialogue and housed the second interfaith service at Temple Israel. This involvement, however, did not deter him from confronting the anti-Semitic Polish Cardinal Glemp, who blamed the Jews for the Holocaust. The confrontation took place in a meeting room adjacent to the Cathedral in downtown Albany.
For many years, Rabbi Silton made himself available to meet and speak with students from both religious and secular schools in the Capital District. At the request of Debbie Riitano, he conducted model seders at several churches.
Justice Pursuer
In reaction to the hearing of accused war criminal Viles Hazners in 1979, he founded Holocaust Survivors and Friends in Pursuit of Justice (Holocaust Survivors and Friends now led by Shelley Shapiro and her assistant, Diane Freer). Rabbi Silton also led a demonstration outside Hazner's home in Dresden, New York.
In 1987, he gathered critical evidence about another accused Latvian was criminal, Mikelis Kirsteins, and this led to a new hearing. Kirsteins was a member of the Latvian Arauj Kommandos which murdered many Jews and other civilians. In 1990, the Rabbi accompanied Jacob & Libby Schreiber z"l to Stuttgart, Germany where Jacob testified against Nazi war criminal Josef Schwamberger, the commandant of the Przcmysl Ghetto. Charged with the murder of 3,377, forty by his own hand, he was sentenced to life imprisonment.
While in Germany, he spoke at the Catholic church in Passau (the first rabbi ever to do do). He also joined the "Nasty Girl" Anna Rosmus in erecting a monument and writing the names of the victims with charcoal on a wall at the site in Poking. This forced the leaders of Poking to admit what had happened there. In the US, he urged Jewish organizations to lobby for the prosecution of accused Nazi war criminals in the US. He once dressed up as a Nazi officer at a United Synagogue convention to combat the apathy that then prevailed.
A devoted and loyal Zionist, Rabbi Silton was honored by the Friends of the IDF (Israeli Defense Forces). He organized an annual Yom Hazikaron observance for the fallen soldiers of the State of Israel at the synagogue. He also organized an annual Temple Israel Dance Festival to celebrate Yom Haatzmaut (Israel Independence Day).
Rabbi and Mrs. Silton were also honored by JNF, the Bet Shraga Hebrew Academy and the Herman & Libby Michelson Early Childhood Center.
During his years at Temple Israel, he earned many United Synagogue awards: 1) Social Action, 2) Continuing Ed, 3) Cultural Arts, 4) Fine Arts, 5) Ritual (the Temple Israel mikve, 6) Israel Affairs, 7) Jewish Camping (Kibbutz Givah). He most recently became a recipient of the Albany Jewish Community Center Pillars Award for his exceptional contribution to the Jewish community at large through education, service and acts of kindness.
Dance Programs
Rabbi Silton's love of Jewish music led him to develop Temple Israel's dance program from one group to several others. Working closely with Lorraine Arcus, he opened up the Israeli dance experience to all ages: Tzamarot, Arazim, Shorashim, Garinim and the adult dance group. All of these groups were given the opportunity to perform on Yom Haatzmaut. Rabbi and Mrs. Silton were honored at the annual New York City Dance Festival by the Israeli Dance Institute for their support of Israeli dancing in the US.
To enhance the High Holiday religious experience, he reintroduced the choir under the professional leadership of Anna Dubrova, who had won many awards for her choral work in the former Soviet Union. Lynn Gross, who now lives in Israel with her husband David, was the former conductor of the group. Ms. Marlene Jaffee preceded her. To further improve the quality of the choir, he brought in professional voices from the Albany Promusica with the help of conductor David Griggs Janower z"l.
Passionate about Jewish culture, Rabbi Silton arranged for an annual concert. He brought famous cantors (Alberto Mizrachi, Yaakov Motzen) Naomi Shemer, Neshama Carlebach, Avraham Fried, the Israeli Army Choir, the New England Conservatory Klezmer Orchestra and several Hassidic Song Festivals to the community. In order to expose the congregation to Sephardic music, he set in motion the annual Sephardic Shabbat.
Special Meals
To ensure that members of the synagogue and community would have a variety of religious experiences, he extended the Seuda Shleeshit (the third Sabbath meal) to fifty-two weeks a year. He also initiated the annual Sukkot and Simhat Tora dinners and lunches. In order to reach out to new Soviet Jewish immigrants, as well as others in the community, he arranged for an annual community seder. He also organized the circumcision of younger and older children from the Soviet Union.
Rabbi Silton has been written up in several books: The Outraged Conscience by Rochelle Saidel Wolk, Out of Passau by Anna Rosmus, A Day Apart by Christopher Ringwald, and Temple of Diamonds by Chaim Picker. In his retirement, he has completed the study of the entire Talmud (siyyum hashas). He has just finished his own first book NITZHUNI BANAI, Laughing with God, Perpetuating Tora Through Humor and Learning. He plans to immediately embark on his second book that will deal with his involvement in bringing Nazi war criminals to justice.
Rabbi Silton' s love of Jewish ritual and tradition inspired him to assure that duchaning (priestly blessing) would take place at every holiday service. In order to expand the awareness of congregants to a variety of Jewish practices, he promoted the purchase and writing of a Sephardic Tora scroll and its regular use at services. Morris Massry z'L and his wife, Esther, then commissioned a Sephardic Tora scroll to be written in Israel in honor of the Bar Mitzva of their grandson, Murray Massry. Rabbi Silton also arranged a temporary home for another Sephardic Tora scroll written in memory of Solman Shlomo Benno z"l and his wife, Marcelle Havevu Benno z"l, written in their memory by their family.
Ritual
Rabbi Silton also promoted the making of the new weekly and Shabbat Tora covers by Anita Rabinoff Goldman and Diane Segal. The Rabbi himself designed the Sephardic Tora reading stand, the special wedding stand, the ballroom ritual washing sink and the artwork above it (by Mishka Luft). He also built the Temple Israel mikve in memory of Dr. Susie Isser z"l (donating fifteen thousand dollars of his own money to the project). The Massry family funded the mikve itself. Many others contributed most generously to the project. To accommodate those with disabilities who could not walk up the stairs to the bima, he had a Shabbat usable lift installed in the main sanctuary.
With the expansion of the synagogue, he encouraged the building of the Hadar Gift Shop in honor of the Bat Mitva of Julie Massry (thanks to the donation of Norman and Micki Massry).
Camp Director
As director of Camp Givah for many years, Rabbi Silton was responsible for the construction of the Camp Givah lake (Yam Sarah), donated and built by Charles Buchman z"l in memory of his wife Sarah z"l. He also (thanks to Charles Buchman z"l) suggested the building of the Arts and Crafts building (Yedai Sarah). Due to his addition of the early childhood program at Camp Givah, he promoted the construction of the Gan building (thanks to Charles Buchman z"l, Marty Scher z"l and Paul Scher). At a still later date, he had an early childhood playground built in memory of Larry Ginsburg z"l and Esther Ginsburg z"l by their family.
In order to expand activities at Camp Givah, he added the Kibbutz Program, a Red Cross certified canoeing course, sailing, fishing, computers, gymnastics, horseback riding and pony rides.
With all these many accomplishments, Rabbi Silton considers his most precious achievement  to be his seven children and, so far, 27 grandchildren, thanks to his incomparable Eishet Hayil, Woman of Valor, Faye:
Elana Yaakova (Dr. Ari) Miskowitz, Michal Meira (David) Kahan, Dr. Rabbi Akiva Yosef (Dr. Sharon) Silton, Tamar (Jeremy) Epstein, Esq., Aviva Chaya (Ami) Robinson, Dr. Nava Ruth (Dr. Ariel) Brandwein, Shira Aliza (David) Wildman. All are very active in their synagogues and communities. Their children attend Jewish day schools and are involved in their synagogues and communities. "Their love for Tora study, the Jewish people and Israel continue to bring both Faye and me the greatest of nachat and fulfillment. This year alone, four of my grandchildren studied at yeshivot in Israel. What is most rewarding is when they teach me Torah and outdo me in acts of hesed (kindness) toward others."
His grandchildren are: Sigalle Adina (married to Shua Soskil), Betzalel Y'air, Avishye David, Azriel Baruch, Amiad Sapir, Baruch Eliyahu Moshe, Ariel Yair, Aliza Chaya, Liana Isabel, Ezra Moshe, Elisha Meir, Avidan Michael, Ayala Yehudit, Calanit Dora, Erez Yavniel, Nitzahn Ta'ira, Yosef Hayyim Elnatan, Yakira Rachel, Dina Anielle, Solomon Zeke, Judah Lior, Jonah Gabriel, Jacob David, Jordana Leah, Juliet Bella, Nadav Tzvi Zeleg, and Liam Yishai. There is a rumor that one more is on the way.
All of the above would not have been possible without the joint effort and support of Rabbi Silton's wife of 54 years, Faye Goldsmith Silton.
---
In the Beginning
By SALIA GALITZ

How does one relate the story,
In all its magnificent glory?
The joy, the dedication, the family values,
The adventure, the journey!
In one's mind and heart
Could one impart.
The truth, the soul, the humble beginnings
Of the Early Childhood Center,
And our long-time friend and mentor.
We do salute! We do give thanks!
We are perceptive of his measure,
As the children, we so treasure,
Our hopes and dreams
Amidst ways and means,
Send the field, harvest the yield,
Give weight to its conception.
To Rabbi Silton, his long-range mission,
His glorious vision,
Searching new heights,
Our welfare in his sights.
With strength so rare,
The mighty dare to investigate and be aware.
What should be of concern?
To learn and discern our need,
How does one proceed?
Ask the Rabbi!
He'll answer the call
And embrace one and all.
Greet parents of the newest class,
Welcome their precious lad or lass,
Engage in the drama and panorama.
Retell the tale, further hail
The program, with love and affection,
Which upon reflection,
Binds us all to the Rabbi, his son
And daughters an wife,
As they wistfully look back
On nursery life.
Let's involve some mystery,
A bit of history.
The Rabbi was informed of need
By working parents planting the seed.
Thus the Daycare was born
A new pattern formed.
A shining example,
A cherished sample,
Of the many ways
Our standards were raised,
And the quality of life.
Shall we proceed
To rewrite the deed,
As the stage is set,
Another need is met.
The Toddler class
Are a welcomed sight,
The mathematical equation just right.
As they danced, sang and played,
A symphony was made.
How sweet the melody!
Who is the driving force,
Our great resource,
Propelling the flight on winged course?
We knocked down another wall
To respond to Rabbi Silton's call
For the young threes
Sailing calm seas.
In perfect harmony,
The newest wave that gave
Refreshing waters.
Behold! Envision!
Another addition!
The trumpets blast,
Heralding the newest cast.
The Hebrew Immersion,
Is on an excursion.
Scaling the pinnacle
Caressing a miracle!
The children arriving
Are blissfully thriving,
As the Hebrew language soars,
Opening wondrous doors
Of opportunity.
Every innovation
A sure indication,
Of quality, beauty and care.
The Rabbi aware
A welcome is planned
The playground will expand.
Put together a giant screen
To splash on an enduring scene.
Our Rabbi sounding the shofar,
Listening young ears
Surrounded by peers.
A special time,
The music sublime.
Are in good measure.
Standing in the Sukkah,
The daylight peeking through,
The sheltering branches
The lulav, the etrog
The children around,
Na'er a sound.
It's enchantment.
The senses keen, the children beam.
And Palti lends his special magic.
If one contemplates
And clearly states,
Or conjures up a memory with a smile,
Could it be Palti telling a joke
And laughing awhile?
Perhaps coming in for a snack.
There's never a lack,
But always food for thought.
How about a better view
of our generous Mitzvah Man,
His pleasure in giving to the cause
without speaking a pause.
Where inspiration?
Towards whom, tender evaluation,
Answering the plea of a parent in need
Who has the caring,
the empathy, the bearing?
Who, but our own Palti!
The waters are deep
The memories we keep,
We are searching today,
Tomorrow, and always
You will be a part of our nursery family
Forever welcomed.
Many, many thanks!