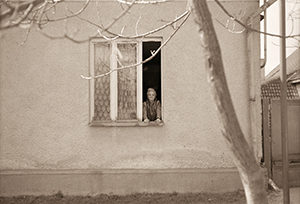 AMHERST, Mass. – The visiting exhibit "Beyond the Forest: Jewish Presence in Eastern Europe," photographs by Loli Kantor, is now open at the Yiddish Book Center in Amherst, Mass. The exhibit will be at the Center's Brechner Gallery through October 15.
"Beyond the Forest" considers the re-emergence of Jewish life in a region where Jewish communities were once destroyed. Kantor, an Israeli-American photographer, took the photographs over almost a decade. She made numerous trips to Poland and Ukraine. The daughter of Holocaust survivors who died when she was young, Kantor first visited the region on a quest to uncover more about her family history. Over time, her focus expanded to include local Jewish history and communities.
On her many trips to Eastern Europe, Kantor visited both cities and small towns. In each place, she'd connect with local leaders, who would introduce her to more people. "I went back to the same communities over and over, so they'd feel more comfortable with me and I'd learn their stories better," Kantor says. Her photographs—in color, black and white, and palladium processing—capture both daily life and special events in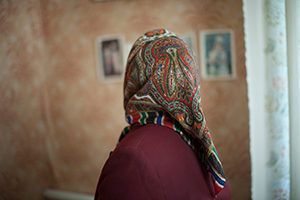 Jewish communities. Kantor also discovered that in many cases, it's non-Jews—artists, historians, activists—who are engaged in celebrating and preserving Jewish culture.
Kantor will give a gallery talk at the Yiddish Book Center at 11 a.m. on Sunday, April 30, as part of the Center's free community open house. Information may be found at yiddishbookcenter.org/calendar.