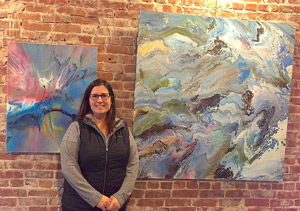 SCHENECTADY–The Schenectady Jewish Community Center will showcase the art of Amy Hauer in the Farber-Miness Lounge at the Center, 2565 Balltown Rd., Schenectady through Feb. 15.
Hauer is mixed media artist and abstract painter. She explores a variety of techniques and processes when creating her paintings. Some of her past work has been created using resin, acrylic fluid inks, tints and pigments, alcohol inks, glass pieces, floetrol as a pouring medium, as well as markers, pens, and household paint.
A reception for the artist has been announced for Feb. 3.
Hauer is a member of Congregation Agudat Achim in Schenectady and lives in the Albany area with her husband and three daughters.