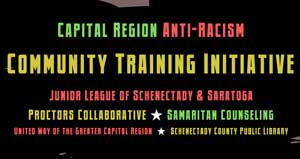 SCHENECTADY –The Capital Region Antiracism Training Initiative has scheduled a community book read and conversation by its author, as well as a series of workshops focusing on advocating for positive changes in the community and health care system.
The month of activity begins  with the organization asking the community to read the New York Times best-selling book Begin Again: James Baldwin's America and Its Urgent Lessons for Our Own" by MSNBC contributor Eddie S. Glaude Jr. in preparation for a virtual discussion on race on Tuesday, Oct. 6 at 7 p.m.
A new development of the antiracism initiative is The Allyship Institute, which brings together national and regional leaders in their fields to provide a look at antiracism, diversity, equity and inclusion through the lenses of the workplace, parenting, the faith community, behavioral health, healthcare and education through free virtual presentations. The term allyship is defined as the practice of emphasizing social justice, inclusion and human rights by "ingroup" members to advance the interests of a marginalized "outgroup."
Workshop topics include "Antiracist Training for Mental Health Workers" at 4 p.m. Wednesday, Sept. 16; "How to be an Antiracist Parent" at 4 p.m. Wednesday, Sept. 23; "Antiracist Training for Clergy Religious Leaders" at 10 a.m. Wednesday, Sept. 30; and "Racism and Health Disparities" at 7 p.m. on Wednesday, Sept. 30.
Participants can join any session for free either through Zoom (where they can interact with instructors) or can watch on social media or through Smart TV and Smart Phone apps. To interact with the instructors in Zoom, advanced registration is necessary and capped at 100 people; sign up at tinyurl.com/capregionallyship. Each session will also be available live and on demand on Collaborative Studios' Facebook and YouTube pages, as well as Apple TV, Amazon Fire TV and Roku devices. Links and instructions are available at tinyurl.com/collabapps. Collaborative Studios broadcasts are also available on Spectrum and Verizon Fios in some areas; details at tinyurl.com/collabTV.