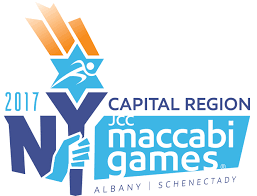 ALBANY– Registration for volunteers and athletes has opened for the 2017 Capital Region Maccabi Games, an Olympic-style sporting competition for Jewish youth from around the world, that will be hosted  in this region for the first time. The games, sponsored by the Jewish Community Center Association, are the second largest organized sports program for Jewish teenagers in the world. The Capital Region games will be Aug. 6-11.
Next summer, the games will be held in three locations in the United States: Miami (Fla.), Birmingham (Ala.) and in the Capital Region of New York. The Capital Region event will see approximately 700 athletes from around the world, along with their coaches, delegation chairpersons, parents and other spectators.
Registration to participate, to volunteer and to host is open at www.CapitalRegionJCCMaccabi.org. The events will rely on volunteer support from throughout the Capital Region. Athletes will be hosted by Jewish families, and hundreds of other volunteers will be needed to help bring the games together.
Athletes will compete here in: table tennis, ice hockey, basketball, swimming, soccer, dance, tennis, golf and baseball. The main hub for the events will be at Guilderland High School.
"Hosting the Capital Region JCC Maccabi Games at Guilderland High School is an important opportunity for our community and our own Jewish students. It's great for our district and the whole region. We're glad we could make it work here," said Regan Johnson, Guilderland School District's director of athletics.
Athletes from as far away as Mexico and Israel will attend the games and participate.
The five-day athletic competition and community event will begin at the Times Union Center with opening ceremonies on Sunday, Aug 6. Over the course of the week, athletes will compete and also learn about rachmanus (compassion) during the competition, tikkun olam (repairing the world) during the community action projects known as "JCC Cares," and amiut Yehudit (Jewish peoplehood), according to organizers.
Confirmed delegations making the trip to the Capital Region include representatives from the following JCCs:  Akron/Youngstown, Ann Arbor, Brooklyn, Boston, Bridgewater, Buffalo, Central New Jersey, Cherry Hill, Cincinnati, Columbus, Dayton, East Hills, Fort Lauderdale, Harrisburg, Israel,  Los Angeles, Mexico, Northern Virginia, Philadelphia, Pittsburgh, Rockland County, Springfield, Stamford,  Tarrytown, Toronto, Washington, West Orange and Winnipeg.
Sponsorship and volunteer opportunities may be obtained at the website, www.CapitalRegionJCCMaccabi.org.

The Capital Region JCC Maccabi Games co-chairwomen are Lauren Finkle, Joanna Goldberg, Debbie Gordon, Lauren Iselin and Michelle Ostrelich. U.S. Congressman Paul Tonko is the honorary chairman of the games.