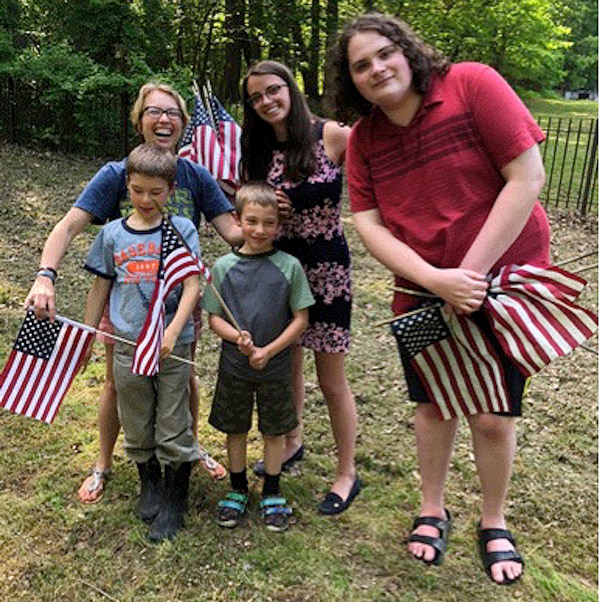 By STEVE GOLD
In a back corner of the Elmwood Hill Cemetery is an area with the graves of Jewish war veterans who lived in Troy. As she has done for several years now, Jaclyn Gold, a member of Troy's Temple Beth El, has organized a team to make sure there are fresh flags at each grave for Memorial Day.
"I know how much it means to families when they arrive and see that someone has taken the time to honor their loved one with a fresh flag," Jackie Gold said.   
Many years ago, Navy veteran Larry Novick took it upon himself to make sure there was a fresh American flag next to every veteran's grave in the Temple Beth El cemetery along with those at  the Jewish Military Cemetery.
Six years ago, Novick passed that tradition along to younger members at his Temple and  Gold agreed to  the responsibility of organizing the tribute. Now, a senior, graduating from Bethlehem Central High School's Lab School program, she continues to organize a group of volunteers every year to continue Novick's labor of love.
This year Gold's group included Beth El Board Member Sylva Menard and her sons Ezra and Avi and Ethan Filler from Congregation Berith Sholom of Troy.
"Larry wants the families that visit on Memorial Day to see that people still care and remember," said Temple Beth El President Mark Menard.
Many headstones in the cemetery have symbols indicating military service for the Jewish War Veterans in the Temple Beth El cemetery and the adjacent Jewish Military Cemetery.
Temple Beth El of Troy is Rensselaer County's only Conservative Jewish synagogue and is celebrating its 90th year.