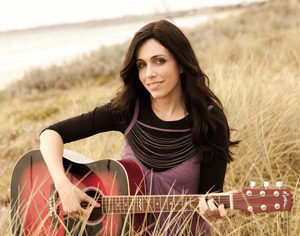 The Jewish Women's Connection will host its13th annual Spa for the Body and Soul featuring singer and health coach Rivkah Krinsky on Sunday, Jan. 21, at the Shabbos House Student Center, 320 Fuller Rd., Albany. In addition to the presentation, for women only, the event will include a luncheon, raffles as well as "Spa" treatments (which are free with admission). Pre-event "Spa" treatments will be from 1-2 p.m. and will include massages, nail care, and paraffin treatments. Luncheon and program are set for 2-4 p.m.
Krinsky's repertoire includes a wide range of Jewish music, both contemporary and classical, and she accompanies herself on the guitar. She will be joined in singing at this program by a daughter. The website  jewishjukebox.com describes Rivkah Krinsky, as "the fresh new face of Jewish music for women and girls alike."
Krinsky, a native of Australia, has released her debut CD, "In Your Hands." The mother of eight is also a health coach encouraging a healthy lifestyle. According to organizers, her motto is: Enhance everything you do and enjoy each day with a healthy body, mind and soul.
Admission is $20 if prepaid by Jan. 15,  and $25 after that date, and at the door.
Leah Rubin at 495-0779 or jwc@capitalchabad.com can provide reservations and details. Reservations may also be made online, www.CapitalChabad.com/spa.
Parking will be at the University Dutch Gold Student lot, and a shuttle to Shabbos House will be available.
The event is co-sponsored by Capital Chabad Centers, B'nos Israel Mikvah, Jewish Federation of NENY and Hadassah Capital District.