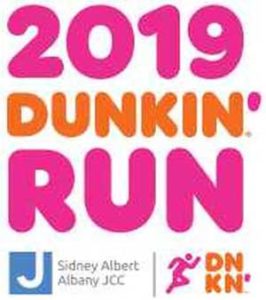 ALBANY–The Albany Jewish Community Center (AJCC), 340 Whitehall Rd., Albany, will hold its annual Dunkin' Run on Sunday, Sept. 15.
The 2019 Dunkin' Run is a certified 5K and 10K USATF road race.
A 5K, 10K, 10K Masters Division and 15K race for men and women and a ½ mile Munchkin run for 12 and under will be offered. The 10K/15K Men's/Women's Race and 10K Masters will start at 8:20 a.m. The 5K starts at 8:30 a.m. and the  12 and under Munchkin run starts at 10 a.m.
Free long sleeve dri-fit shirts will be available  for the first 700 runners. Entry fee is $35. Kids 12 and under Munchkin run is $13. Registration deadline: Mail-in, 9/4. On-line by 4 p.m. 9/11/19. Additional information and registration  is available  on the website at www.albanyjcc.org or  by contacting Amy Zick at AmyZ@albanyjcc.org.