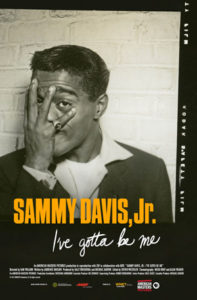 ALBANY–As part of its Lunch and Learn series Congregation Beth Emeth will show the film ''Sammy Davis Jr. – I've Got To Be Me'' at noon on Wednesday, Feb. 7. The film will be shown at the temple, 100 Academy Rd., Albany.
The film explores the life and career of Davis, a dancer, singer and actor. Davis started as a performer at the age of three, and by the time of his death from cancer in 1990 he had been a star for more than six decades.
He was a member of the Rat Pack (Frank Sinatra, Dean Martin, Sammy Davis, Jr., Joey Bishop, and Peter Lawford) in the 1960s. He converted to Judaism following a car crash in which he lost his eye and found comfort in studying religion with a rabbi that he had met. He later visited Jerusalem and prayed at the Western Wall.
"Sammy Davis isn't sure he wants to be the black Sinatra or the Jewish Sinatra" is a memorable line from the documentary directed by Samuel D. Pollard as part of PBS American Masters Series, according to organizers.
Pollard is perhaps best known for his collaboration with Spike Lee on films such as "Bamboozled" and "Jungle Fever."
According to organizers, the film was a crowd favorite when it was first shown at the Haifa Film Festival in Israel last October. It includes a star-studded roster of interviewees, including Jerry Lewis, Whoopi Goldberg and Billy Crystal, who pay tribute to the legendary multi-talented song-and-dance man.
Those planning to attend are asked to bring their own lunch. Drinks, popcorn and noshes will be provided. Deb Sokoler at dsokoler@bethemethalbany.org can provide details.