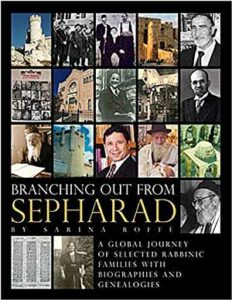 Sarina Roffé, the author of the book Branching Out from Sepharad, will provide an overview of how Sephardic Jews dispersed around the globe after 1492 and will discuss Sephardic resources for genealogists on Sunday, Dec. 8, at the Capital Region Jewish Genealogical Society (CRJGS) annual meeting. CRJGS will meet at the Jewish Federation of Northeastern New York building, 184 Washington Ave. Ext., Albany, from 1- 3 p.m.
The community is invited to attend.
Roffé is a professional genealogist, editor of DOROT, and founder of the Sephardic Heritage Project. Branching Out From Sepharad (Sephardic Heritage Project, 2017),  outlines the history of Jews in Spain, the 1492 expulsion, their history in Syria, and their immigration to the Americas.  She is also the author of Backyard Kitchen: Mediterranean Salads, a cooking app and articles. She is responsible for the translation and databasing of marriage and brit milah records on JewishGen. While on the board of governors of JewishGen, she acquired several databases of Sephardic records including cemetery records from Mexico, Venezuela, Cuba and Argentina. Roffé has presented at IAJGS Conferences and has completed over a dozen genealogies, through her genealogy consulting business, Sephardic Genealogical Journeys. She is co-chairwoman of the Brooklyn Jewish Historical Initiative, the first organization to document Brooklyn's Jewish past.
Information may be obtained by e-mailing  crjgs1@gmail.com.