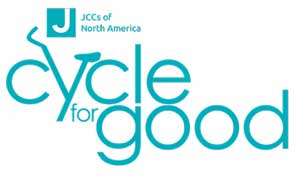 SCHENECTADY– The Schenectady Jewish Community Center (SJCC) is seeking cyclists to join JCCs of North America for its eighth annual Cycle for Good fund–raiser. Participants will reserve stationary bikes for one-hour intervals and get sponsors to support their ride to benefit the American Cancer Society. This year's event will take place on Sunday, Dec. 22, from 9 a.m. to 12 p.m. at the Center, 2565 Balltown Rd.
The event is structured so that participants ride together for a one-hour overlap period across all participating JCCs throughout the continent. For $25 per hour cyclists can cycle for a good cause and their own wellness to kick off the Chanukah season. The opportunity is open to all members of the community and is not exclusive to Center members.
Information on the fund–raiser may be obtained from Schenectady JCC Fitness Director, Terry Santoro at terrys@schenectadyjcc.org. Reservations for the stationary bikes are available by contacting the Schenectady JCC at 518-377-8803 or at the sports and wellness desk at the Center.