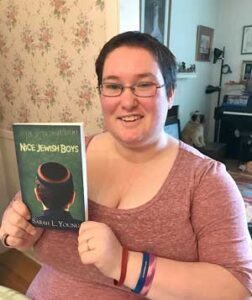 SCHENECTADY– Sarah L. Young, a LGBTQ and Jewish young adult fiction author will speak about her book Nice Jewish Boys with the Schenectady Jewish Community Center (JCC) and the community in a free discussion on Thursday, June 18, at 5 p.m. via Zoom.
The book relates the story of Avishai Miller, a typical kid. Except that his mother is dead, he barely speaks to his father and he is secretly dating Noah, a male classmate at his Jewish private school. When their relationship is discovered, everything they know changes, and they struggle to find their way in a new and unwelcoming reality.
Young is 22 years old and a recent graduate of Wellesley College in Wellesley, Mass. She is also the author of Plus One and her latest book, Happy Camper is set for release later this year.
Registration for the virtual discussion may be found on both the Albany and Schenectady Center's websites at www.schenectadyjcc.org/arts/jewish-learning/  or www.albanyjcc.org/sarahyoung.
Information may be obtained by calling 518-377-8803.