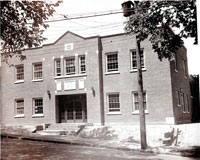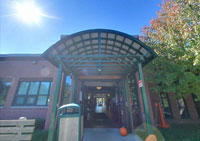 SCHENECTADY– The Schenectady Jewish Community Center (SJCC) opened its doors in 1921 as a merger of the Young Men's and Young Women's Hebrew Association located on the corner of Germania Avenue and Albany Street in downtown Schenectady. This year, the Schenectady JCC celebrates its 100th anniversary with a yearlong celebration that kicks off Sunday, Jan. 24. Each month will feature a series of programs centered on a theme and a scheduled culminating event.
The theme for January is "Beginnings" with programs representing new beginnings in Jewish culture as well as a look back on how the Schenectady Center became what it is today
"Celebrating our history and our importance to our community and members seems even more critical during these difficult times," said the Center's Campus Director, Andy Katz. "We are excited to be acknowledging this milestone as well as our history and traditions during this year-long reflection of the Schenectady JCC and its role in the community."
Before moving to its current location in Niskayuna, the Center was located in a converted mansion on the corner of Albany Street and Germania Avenue in Schenectady from the late 1920s to 1960s. On Sunday, Jan. 24, at  7 p.m. the Schenectady JCC will host an event "Germania Avenue JCC." A panel of members who used the Germania Avenue JCC will hold a discussion along with photos of the former building. Panelists include Jack Gold, Harlan Harrison, and Alan Neufeld.
In celebration of Tu B'Shevat and keeping with the theme of "Beginnings," a virtual event  is slated for Thursday, Jan. 28, at 4 p.m. This program will be held on the JCC's Facebook page on Tu B'Shevat "New Year for the Trees" as a celebration of the holiday and its importance for this anniversary celebration.
To mark the beginning of the anniversary celebration, there will be an official 100th Anniversary kickoff on Saturday, Jan 31, at 7 p.m. This program will feature presentations from the 100th anniversary co-chairpersons, CEO and board president, a video containing a montage of photos from throughout the JCC's 100 years and a presentation from past and current JCC volunteers, politicians, community groups. Organizers have announced that those who register for the anniversary kickoff  in advance will be entered to win prizes.
Anniversary committee cochairwomen are Aviva Hallestein and Michelle Ostrelich who will organize the programs and celebrations over the course of the next 12 months along with the honorary chairman for the celebration, Neil Golub.
Information about the 100th anniversary celebration and registration information for any of this month's programs, is available at http://www.schenectadyjcc.org/events/a-year-of-celebration-100th-anniversary/.